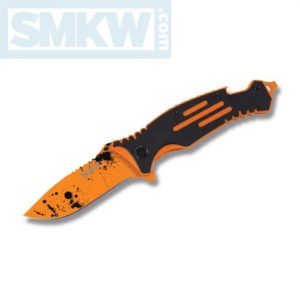 If you're messy and end up with as much paint on you as you have on the wall, your hands get slippery. It's hard to hold onto anything.  The Marble's Painter's Linerlock solves that problem with jimping. Tons and tons of jimping. There's jimping on the spine, all the way down the top of the handle, on the bottom of the handle, and on the liner lock – there's jimping everywhere.
This is a painter's knife not just because it's got a paint splatter coating.  The Marble's Painter's Linerlock was designed to be a useful and functional every day carry knife with the added benefit of being a multipurpose painting tool.  It features an integrated paint can lid pry bar/flat head screw driver built in to the body of the knife, which will help you keep the 3.375″ drop point blade nice and safe from breakage.
It has a flipper-activated, assisted opening mechanism, which makes it easy to neaten up your tape without having to put stuff down. The Marble's Painter's Linerlock handles are textured black and orange G-10 which is one more nod in the direction of slip resistance.  It also features a tip-down pocket clip and a lanyard hole. All of these things make this knife an easier carry when you've got painting to do.
Last but not least, it also features an integrated bottle opener, because there's nothing like popping open a cold one after successfully finishing a paint job.
Marble's Painter's Linerlock Details
3.375″
440A, Drop Point
G-10
Assisted Open
Paint Lid Opener
Lanyard Hole
Bottle Opener
Linerlock
Tip-Down Pocket Clip
5.125″ Closed
8.4" Overall
All in all, the Marble's Painter's Linerlock is a great knife you can pick up for less than $10. If you're interested in this knife click any link in this article or simply click the button below.


All images courtesy of Smoky Mountain Knife Works – smkw.