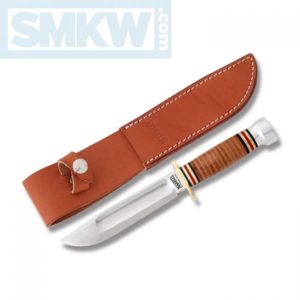 Marble's celebrates their 120th anniversary by not only bringing production home on one of their most revered knives, they gave it a bit of an upgrade. The Marble's Ideal Hunting Knife was originally sold and produced in Gladstone, Michigan as early as 1899.  It was one of the first commercial knives specifically designed for the American hunter, and has been carried by scores of people over the centuries. Teddy Roosevelt was rumored to be a fan of Marble's knives.  For the first time in a very long time, this knife was produced in its hometown of Gladstone, Michigan.
First off, this stunning reissue of Marble's Ideal Hunting Knife features the 5.5" clip point blade for which this knife is known. However, it has been upgraded with hearty A2 tool steel. This means it has greater corrosion resistance while retaining its legendary toughness.  It also retains the wide fuller, or blood groove, just like the original knife.  The fuller, or blood groove, makes the blade a bit lighter and a bit easier to carry, so it won't load you down quite so much in the field. Additionally, it prevents drag while it's in use.
The stacked leather handle is accented by brass spacers and offset with a brass guard and stainless-steel pommel. Lastly, this knife also includes a leather sheath, with belt loops.
Marble's Ideal Hunting Knife 120th Anniversary Edition Details
A-2 Tool Steel
5.50″ Clip Point
Stacked Leather
Fixed Hunter
Leather Sheath
10.375″ Overall
Made in USA
All in all, the 120th Anniversary Edition of Marble's Ideal Hunting Knife is an exceptional homage to a revered historical knife.  If you're interested in this knife, click any link in this article or simply click the button below.


All images courtesy of Smoky Mountain Knife Works – smkw.com.