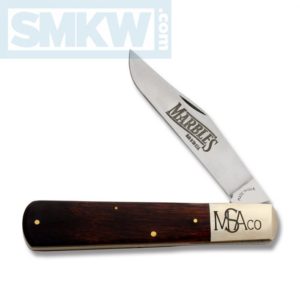 Many companies make a Barlow knife. Many Barlow knives are gorgeous. Marble's Granddaddy Barlow combines the easy care and maintenance of modern steel technology with the craftsmanship of what made the Barlow knife as American as Mark Twain and apple pie.
This USA-made Marble's Granddaddy Barlow is well worth the purchase price. The Marble's Granddaddy Barlow features an embellished 4", 440A stainless steel, clip point blade, as well as monogrammed nickel silver bolsters. The stunning walnut handle has brass pins and liners.
You can't talk about a Barlow without talking about history. The Barlow knife has an intriguing and mysterious history. There has long been a dispute about who first designed the Barlow knife, but many believe John Russell might have been the first American to mass produce the Barlow knife in 1875. If so, perhaps he was inspired by the words of Mark Twain in Tom Sawyer who wrote that the Barlow pocketknife was an object that would bring a "convulsion of delight that swept his system, shook him to his foundations… it was a 'sure-enough' Barlow, and there was inconceivable grandeur in that."
Marble's Granddaddy Barlow Details
440A Stainless Steel Embellished Blade
4″ Clip Point
1/16″ Blade Thickness
Walnut Handle
Brass Pins and Liners
Nickel Silver Engraved Bolster
4 5/8″ Closed
Made in the USA
This USA-made Marble's Granddaddy Barlow would be a fantastic addition to any traditional pocketknife collection.  If you're interested in this beautiful piece, click any link in the article or simply click the button below.