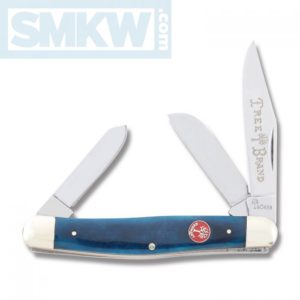 Some have said that the traditional pocket folder is going the way of the dodo. We agree there are definite advantages to modern technology when it comes to pocketknives. However, we disagree that the traditional pocketknives will fade from sight any time soon.  Traditional pocketknives are easy to carry and, quite frankly, we think they're gorgeous in a way that is completely different from the modern flipper folder. Additionally, the price range is generally lower on these classic knives. Case in point, the Boker Smooth Blue Bone series. These are simply beautiful pocketknives, and since they're under $30, you won't have to take out a second mortgage to buy them.
Made with high carbon stainless steel in Solingen, Germany, the Boker Smooth Blue Bone knives will develop a beautiful patina, enhancing their stunning appearance. The polished blue bone handles have gorgeous luster, and they have a smooth, solid, and terrific feel in your hand.  The historic red-filled, nickel silver shield inset into the blue bone is truly eye catching, and the handle is framed by nickel silver bolsters and emphasized with nickle silver pins.
For almost 150 years, Boker has been renowned for producing a quality product. The fit and finish on these knives is extremely good, especially considering the price point.  These knives come in a Stockman pattern, a Congress pattern, and a Trapper pattern. Each pattern features a Tree Brand insignia blade etch, and finally, each knife is packaged in a beautiful black box with the Boker Manufaktur Germany in striking silver ink, making them a lovely presentation for gifts or collectors.
Boker Smooth Blue Bone Details
Polished Bone Handles
Nickle Silver Shield
Nickle Silver Bolsters
Brass Liner
Nickle Silver Pins
Made in Germany
Overall, any of the knives in the Boker Smooth Blue Bone collection would be a beautiful addition to any knife collection. If you're interested in any of these knives click any link in the article, or simply click the button below.


All images courtesy of Smoky Mountain Knife Works – smkw.com.