There's a new addition to Hinderer Knives: The Rick Hinderer Maximus Dagger Framelock. To truly appreciate this newest addition, you must look at the journey of notorious designer/owner Rick Hinderer. He first started making art knives back the mid-1980's in a chicken coop without running water or heat. His website tells us that after his stint as an EMT, first responder, and member of a rescue dive team that his design philosophy changed from art knives to hard use tactical knives.
He's come a long way from those humble beginnings. Rick Hinderer now has a 14,000 square foot shop, with 18 CNC machines and a water-jet cutting station. He's designed in collaboration with Kershaw, Ka-Bar, Gerber, and Zero Tolerance.  His website states that, "[w]ith the combination of designing art knives, and his real-world experience as a first responder, this unusual perspective allows him to design hard use tactical folders that are not only aesthetically pleasing to the eye, but extremely comfortable in the hand."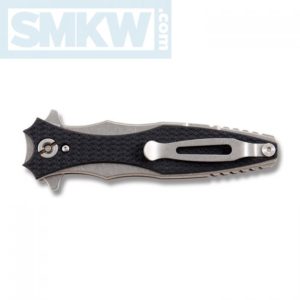 The art and tactical elements in Rick's background combine superbly in the Rick Hinderer Maximus Dagger Framelock.  Designed as an everyday tactical folder, it has a nice heft and balance to it, as well as a very sexy, curvy look.
The blade is a sturdy, double-edged CPM 20CV stainless steel dagger. Hinderer Knives tells us that, "Rick has been dialing in the folding dagger design over the last few years with a couple different renditions and has settle on what you see here, the Maximus. When you get your hands on a Maximus, you will agree immediately that he nailed it. True symmetrical design that the frame totally encapsulates the blade."
The flipper opener is fairly smooth and requires only the slightest flick of a wrist. The closing can be a bit tricky because of its double-edged design. Once you activate the Framelock, you really should use the tab, rather than the more customary spine of the blade.
As Rick Hinderer warns us, "It also means you can't be an idiot with it, or you can cut yourself. Just realize the other side is sharp and one hand close it using the tab rather than the spine of the blade."
The sturdy handles feel a bit narrower than his other knives but still have a comfortable grip in your hand. The Maximus handle features a titanium frame with black G-10 scales. As always, they have a great feel in your hand without being too heavy. It also has an ambidextrous, reversible tip-up pocket clip.
Rick Hinderer Maximus Framelock Specifications
CPM 20CV, Stonewash Finish
3.5" Double-Edged Dagger
Titanium w/G10 Scales
Ambidextrous Handle
Reversible Tip-Up Pocket Clip
4.75" Closed
8.125" Overall
Made in the USA
Overall, the Rick Hinderer Maximus Dagger Framelock would be a fantastic knife to add to your Rick Hinderer collection. If you're interested in this knife, click any link in the article or simply click the button below.


All images courtesy of Smoky Mountain Knife Works – www.smkw.com