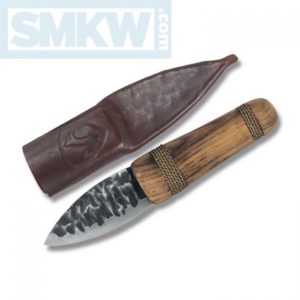 Condor Knife and Tool company has some amazing products in their 2018 lineup. The first we're going to talk about is the Condor Otzi. Why are we talking about this small fixed blade first, rather than some of Condor's amazing machete's, axes, and large survival knives? Because we love everything about it.
Designed by Joe Flowers, the Condor Otzi was inspired by Otzi the Iceman – a late Neolithic mummy from over 5300 years ago. This means Otzi the Iceman is older than Stonehenge, and older even than the Pyramids.  Among Otzi's remains was a small flint dagger and sheath.
According to the South Tyrol Museum of Archeology where Otzi's remains reside, "Ötzi's 13 cm dagger has a flint blade and an ash wood handle. The blade was forced into the wooden handle and bound with animal sinew." The Condor Otzi is a remarkably faithful adaptation of and homage to our universal human heritage.
Now that we've waxed poetic about the fascinating history behind the design of this knife, let's talk about the knife itself. First, this knife is incredibly small. The blade is a 2.27" spear point with a forged flint texture. The overall length of the knife is 5.52" or just over 14 centimeters – which is a scant 1 centimeter larger than Otzi's knife from 5300 years ago.
The burnt American hickory handles have a recessed wire wrap.  Functionally, this improves slip resistance without sacrificing too much in the way of comfort. Aesthetically, it means Condor did a wonderful job of coming as close as they could to the design of the Otzi knife, without sacrificing quality and usability.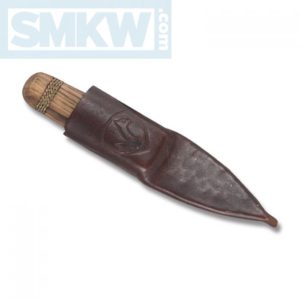 Although it comes with a handcrafted leather sheath with a belt loop attachment, it weighs only 3.2 ounces. We think it's a perfect knife for throwing in your bag to use for the small camp tasks that always seem to come up. The 1095 high carbon steel full tang construction means it'll be up to harder use tasks than its diminutive size implies.
Condor Otzi Details
1095, Forged Flint Texture
2.27" Spear Point
Full Tang
Burnt American Hickory with Recessed Wire Wrap
5.52" Overall
Handcrafted Leather Sheath with Belt Loop Attachment
3.2 ounces
Made in El Salvador
All in all, the look of the Condor Otzi is gorgeous.  Given the intended use of the knife and the need to provide a mass produced, quality knife that should hopefully last for many generations to come, we believe Condor did a fabulous job with their Otzi inspired creation.  If you're interested in this knife, click any link in the article or simply click the button below.


All images courtesy of Smoky Mountain Knife Works – smkw.com.