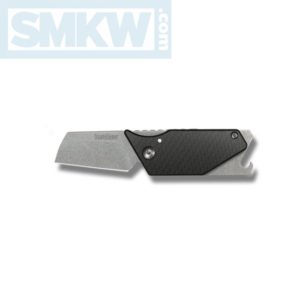 Have you seen the Kershaw Pub? It most likely won't chop down a tree, but it is a fun and inexpensive multi-use friction folder designed by renowned knife maker Dmitry Sinkevich. What's most awesome about it is the size versus the utility of this little knife.
The Kershaw Pub comes in three different styles: black anodized aluminum, blue anodized aluminum, and black carbon fiber. All three knives have a stainless-steel back with a stonewashed finish. Each knife features a flathead screwdriver/pry bar, a bottle opener, and carabiner attachment. With a 3.1" closed length, and a weight of only 1.9 ounces this is an easy carry on either your keys, in your pocket, or on your belt.  Best of all, you can pick one up for less than $20.
While it's in the closed position, this knife doesn't look like a knife at all. It looks like a pretty standard keyring bottle opener, with a small flathead screwdriver on the end, but the carabiner is the tang of the knife and operates the opening/locking mechanism of the blade. Push the carabiner down, and the 1.6" 8Cr13MoV sheepsfoot blade slides out. There is no locking mechanism, you're literally holding the blade in place.  It's not at all a convenient one hand opener or closer, but it's awfully fun trying to make it work one handed.
Kershaw Pub Details
8Cr13MoV
1.6" Sheepsfoot, Stonewashed Finished
Friction Lock
Screwdriver Tip
Bottle Opener
Carabiner Attachment
3.1" Closed
4.5" Overall
1.9 oz
The Kershaw Pub most likely won't change your world but you'll probably have a bit of fun with it. If you're interested in these knives, click any link in the article or simply click the button below.


All images courtesy of Smoky Mountain Knife Works – smkw.com.