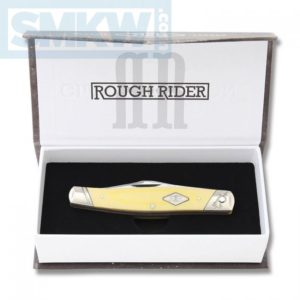 For over twenty years, Rough Rider has been making knives of every shape, form, and fashion.  For the first time ever, and by popular demand, Rough Rider releases the Rough Rider Classic Carbon series. It's almost everything you've ever wanted in a traditional pocket folder, and there are twelve patterns to choose from.
Made from classic carbon steel, these are the knives your grandpa carried lo those many years ago. It has the classic yellow composition handles and best of all, no knife in the series is more than $15.
Featuring classic carbon steel, these knives will be easy to sharpen and will take a razor-sharp edge. They are certain to develop a gorgeous patina over time.  The yellow composition handles are among the most popular handles of all time because most people agree that they have an excellent visibility in low lighting conditions.
Each knife in this series features half stops that give them the walk and talk of knives you either might remember from your childhood or are often found in much higher end knives.  The blades also feature traditional match strike pulls.
Finally this series is available in the Trapper, Mini-Trapper, Swayback, Large Stockman, Sowbelly, Utility, Canoe, Muskrat, Bow Trapper, Folding Hunter, Medium Toothpick, and Hawkbill patterns. Two patterns in this series have locking mechanisms which securely locks the blade in place. The Classic Carbon Utility knife features a Linerlock, and the Mini-Trapper has a Lockback for the clip point blade. All the knives in this series feature nickel silver pins, a nickel silver shield inset into the yellow composition handles. All patterns except the Utility knife feature embossed nickel silver bolsters.
Here are all 12 patterns. Click any thumbnail below to launch a slideshow of larger images.
Rough Rider Classic Details
Classic Carbon Steel
Half-stops
Yellow Composition Handles
Match Strike Pulls
Nickel Silver Pins and Bolsters
Nickel Silver Shield
Brass Liners
Linerlock (Utility Model Only)
Lockback (Mini-Trapper Only)
For about $12 for each knife (none over $15) in the Rough Rider Classic Carbon series, you just can't go wrong adding these knives to your daily rotation. For more information on these knives, click any link in the article or simply click the button below.


All images courtesy of Smoky Mountain Knife Works – smkw.com.