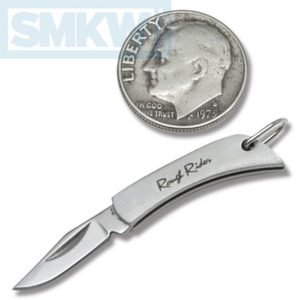 If you read the Tops 107C-XX is "so much way cooler" article, you'll remember The Editor doesn't like it when we use certain words. He hates it when we call a knife "cute" because "knives are not 'cute', they're not 'pretty', and they are never nifty!"  We've started an excel sheet with a whole list of words we're not supposed to use when describing knives. However, you look at the Rough Rider Smallest of the Small series and tell me it's not the cutest thing you've ever seen! Cute is the perfect descriptor for these micro knives. And best of all, at only $3.99 they are incredibly budget friendly.
At less than an inch long when closed, these micro knives are seriously teeny. The blade is only ½" long. Even fully open, they're only 1 ¾". They weigh only .32 ounces.  They also feature a lanyard bail. Are they functional?  Well, if co-workers and family ask to borrow your knife and you hand them this they probably won't ask again. Or maybe you've got a knife collector in your family, what would be better than these tiny knives for a gift that should make everyone chuckle?  So, yeah, they're absolutely functional, if you look at them just right.  Mostly, they're just cute.
These adorable micro knives are available in either stainless steel or brass versions. The stainless-steel features a finger pull opening mechanism, the brass features a thumb hole opening mechanism.
Rough Rider Smallest of the Small Details
.5″ Clip Point in Either Stainless or Brass
Thumb Hole Opener on the Brass Model
Finger Pull Opener on the Stainless Steel Model
Key Ring
1″ Closed
1.5″ Overall
.32 oz
Whether you're looking for a gift or just something that makes you giggle the Rough Rider Smallest of the Small knives are an excellent value. If you're interested in these knives, click any link in the article or simply click the button below.


All images courtesy of Smoky Mountain Knife Works – smkw.com.