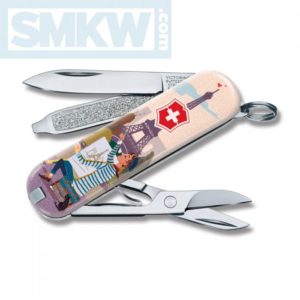 Each year we look forward to the results of the Victorinox Classic Contest series.  Small, inexpensive, artistic, and beloved by collectors are some words we might use to describe the series. The new Victorinox 2018 Classic Limited Edition Contest pocketknives are out with ten new additions from ten different artists, and they are as awesome as you'd expect them to be.
In case you're unfamiliar with this series, each year Victorinox picks a theme. They then hold a contest to find the artists for this Limited Edition series. "Places of the World" was this year's contest theme. Once all the submissions were received, they were submitted to a committee who selected a number of designs to then submit to the general public.  Victorinox received 878 submissions to the contest this year, and after the public voted, these are the designs that are in this series.
Our favorite this year is the City of Love model. This knife features an artistic rendition of an artist rendering a painting of the Eiffel Tower on the front, and a story of the same painter with his lady love on the back.  A close second is the Great Pyramid model, with it's gorgeous blue color scheme.  Priced at less than $20, these knives make excellent gifts. They are also an inexpensive way to add a splash of color to your every day carry rotation.
As always, knives in this series have a composition handle with two different but related full-color designs – one on the front, one of the back. These knives also feature the standard 1.5" stainless-steel pen knife, a nail file with a screwdriver top, scissors, a toothpick, tweezers, and a key chain attachment. Weighing only 0.7 ounces, they are easily thrown into your pocket or bag.
Victorinox 2018 Classic Limited Edition Contest Details
1.5″ Stainless Steel Pen Knife
Composite with Full Color Overlay
Nail File with Screwdriver Top
Scissors
Toothpick
Tweezers
Keychain
2.25″ Closed
0.7 oz
Made in Switzerland
The Victorinox 2018 Classic Limited Edition Contest pocketknives are an excellent addition to any knife collection, or simply to add a bit of panache to your daily carry rotation. They are a limited production, so make sure you pick one up before they're gone. If you're interested in these knives, click any link in the article or simply click the button below.


All images courtesy of Smoky Mountain Knife Works – smkw.com.