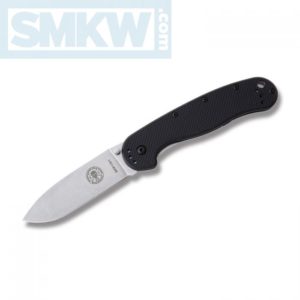 If you're in the market for a straightforward, quality knife at an affordable price you can't go wrong with the ESEE Avispa Folder.  Designed by Jeff Randall and Mike Perrin these are not flashy, or complicated. They're just good knives.
First off, let's talk price. All the knives in this series cost less than $40. That's not a fortune in the land of knives. It's a reasonable price. Featuring a 3.5" AUS8 drop point, these knives have a perfectly decent steel for the vast majority of purposes. They have good corrosion resistance, good edge retention, and a sufficient amount of hardness to handle most tasks. Once the blade is deployed via the ambidextrous thumb stud, it is firmly held in place with a sturdy linerlock.
The handles are rugged fiberglass reinforced nylon (FRN) with outstanding slip resistance, and they feature a four-way reversible pocket clip. Carry it the way that suits you best – tip up, tip down on the left or right – your call.
Finally, the Avispa is available in a variety of colors. Black handles with either a stonewash or a black coated blade, coyote brown handles with a black coated blade, and OD green handles with either a stonewash or a black coated blade.
Click any thumbnail below to launch a slide show of larger images. 
ESEE Avispa Folder Details
AUS-8, Stonewash or Black Coated
3.5" Drop Point
FRN Handle
Ambidextrous Thumb Stud
Fully Reversible Pocket Clip
Lanyard Hole
5" Closed
8.5" Overall
All in all, the ESEE Avispa Folders are good knives available at a good price. If you're interested in these knives, click any link in the article or simply click the button below.


All images courtesy of Smoky Mountain Knife Works – smkw.com.