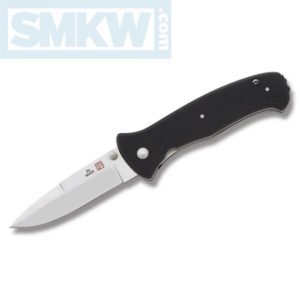 The updated Al Mar SERE 2000 is a 3.6" VG-10 modified spear point with a satin finish. At 0.15" thickness, it is a touch bit thicker than the average midsize folder. It also has stainless steel liners and a liner lock. None of that is what makes this knife amazing.
It's also not the slip resistant G-10 scales, the pillar construction, the flow through design, or the dual thumb studs.  It's most certainly not the lanyard hole, or the ambidextrous deep carry pocket clip that makes the high price tag on this knife seem reasonable.
What is truly amazing about any Al Mar Knife generally – and the Al Mar SERE 2000 specifically – is that it is literally perfect.  The fit and finish is practically flawless. The blade is perfectly centered. The action is beyond amazing. The detente is excellent. It is an impeccable knife.  Whichever Al Mar you choose – the black coated, the satin finished, in whatever blade profile with whichever grip – every Al Mar Knife is an excellent, high quality knife.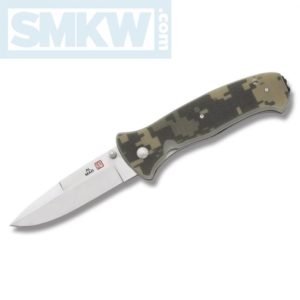 Al Mar SERE 2000
VG-10 Satin Finished or Matte Black Ceramic Coated
3.6" Modified Spear Point
0.15" Blade Thickness
G-10 Scales
Ambidextrous Thumb Studs
Stainless Steel Liners
Liner Lock
Reversible Tip-Up Pocket Clip
4.9" Closed
8.5" Overall
Made in Japan
We've written at length about Al Mar Knives in the past. Their line of modernized traditional folders is exquisite, but there's a mystique about Al Mar Knives generally that can't be explained by simply listing the materials used in the production of their knives.  They're just wonderful and the Al Mar SERE 2000 specifically is a joy to hold and use.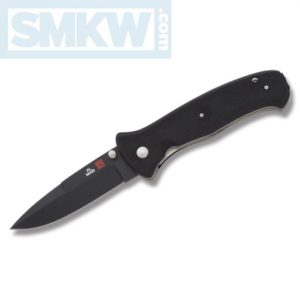 Al Mar is widely believed to be one of the founding fathers of modern tactical knives because of the Al Mar SERE. Al Mar Knives tells us the SERE 2000 was "[o]riginally designed by AL Mar and Colonel Nick Rowe in the early 1980's for the U.S. Army's SERE school, today's updated models are stronger, lighter and the most precision versions we've ever made."
The Al Mar SERE 2000, or any Al Mar Knife, makes a fantastic addition to any knife collection. If you're interested in these knives, click any link in the article or simply click the button below.



All images courtesy of Smoky Mountain Knife Works – smkw.com.