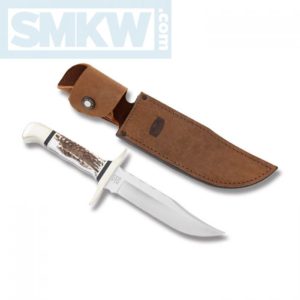 The Buck Knives 640 XL is a nostalgic look back that results in a breathtaking work of art. Let's take just a minute to admire both Buck Knives and Buck Knives employees by drooling over the beautiful and highly symbolic Buck 640 XL. This knife was designed by and built in honor of six employees who have been making knives at Buck for 40 years or more.
This gorgeous knife is a serialized, limited production run. There were only 259 of these knives made.  Why only 259 knives? That's the collective number of years the six designers have worked for Buck. See? Symbolic. Additionally, they named it the 640 XL because 6 employees, at least 40 years.  Finally, the XL is 40 in roman numbers. Symbolism!
The design for 640 XL is based off the 124 Frontiersman. Buck tells us the Frontiersman is "a knife they all owned and worked on 40 years ago."  They made the 6.63" clip point blade out of 440C because that's the steel that was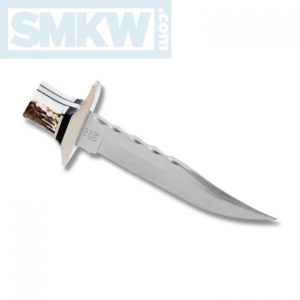 used back then. They also included a serialized blade etch. They added gorgeous custom file work which leads to a beautifully ground false edge on the spine.
The stacked elk and water buffalo handles have an amazing feel. The fit and finish is superb. The nickel silver guard and bolsters are also accented by water buffalo spacers.  It also comes with a leather sheath.
Finally, the packaging for the 640 XL is excellent. It's a pine display box with the series, and the knife specs embossed into the wood. It also includes a signed certificate of authenticity with the model and the serial number.
Buck Knives 640 XL Details
6.63" 440C Clip Point, Mirror Polish
Filing on Spine
Serialized Blade Etch
Full Tang
Elk Handles with Water Buffalo Spacers and Accents
Nickel Silver Bolsters and Guard
Leather Belt Sheath
Pine Display Box
Signed and Serialized Certificate of Authenticity
11.75" Overall
Made in the USA
The Buck Knives 640 XL is the perfect knife to add to any knife collection. There are very few of these left, so make sure you get yours before they're gone. If you're interested in this knife, click any link in the article or simply click the button below.



All images courtesy of Smoky Mountain Knife Works