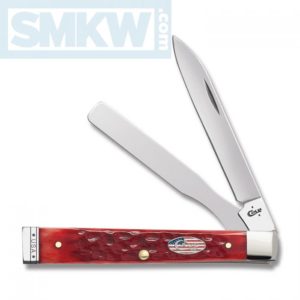 What the heck is a Case Doctor's Knife, and why is it cool? First, it's because Case released this pattern from their vault only for 2018. After 2018 is over, this pattern is going back to the vault.  The square bolster crushed the pills, and the flat unsharpened paddle blade was used as a pill counter, scraper, and scooper. The age of the pattern, the intended use of the pattern, and the fact that you will only be able to get this pattern from Case throughout 2018 is exactly what makes the Case Doctor's Knife cool.
Although most likely people will add these knives to their collection, we can see an immense potential to use these knives as tools. They're fantastic pipe tools. Additionally, they're ideal to toss in your pocket for back yard grilling. The square bolster isn't only perfect for smashing pills, it's also awesome for smashing garlic. The list goes on, but you get the idea.
There are 14 knives in this pattern so far, with more to be added in the Fall. They all feature a 3" spear point blade, brass pins and liners, and nickel silver shields and bolsters. Some models – such as the Smooth Natural Bone or the Smooth Patriotic Kirinite – come with a single blade. Other models have a second blade.
The newest release in this pattern is the Case Doctor's Knife with Peacock Appaloosa Bone handles. This is one of the two blade varieties with a 3" spear point blade, and a 3" unsharpened paddle blade.  This gorgeous knife also features a Case XX diamond shield.  Other models with this two-blade profile with a paddle blade include the Yellow Synthetic, and the Smooth Black Curly Maple Doctor's Knife.
Of note is the 2018 S.H.O.T. Show Exclusive Doctor's Knife with red jigged bone handles, and the Case Stars & Stripes shield.  There are very limited quantities of these, so make sure you get yours before they're gone.
Click any image in the gallery below to launch a slideshow of larger images.
Case Doctor's Knife Details
Tru-Sharp Surgical Steel
3" Spear Point, Mirror Polished
Brass Pins and Liners
Nickel Silver Shield
Square Bolsters, Nickle Silver
3.75" Closed
6.75" Overall
Made in the USA
Overall, the Case Doctor's Knife pattern would be an outstanding addition to any collection. They'd also be handy tools to easily carry in your pocket for every day use.  If you're interested in any of these knives, click any link in the article or simply click the button below.


All images courtesy of Smoky Mountain Knife Works – smkw.com.