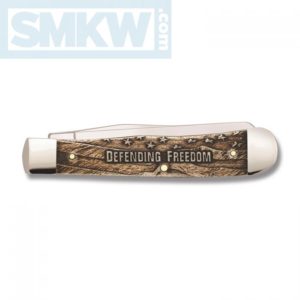 This July 4th celebrate freedom by paying homage to those who fought for those freedoms with the Case War Series. Case tells us, "To honor the brave men and women who participated in these efforts, W.R. Case and Sons has created these laser engraved Trappers pictorializing events in these conflicts. All great ways to say thanks to the heroes in your life."
Each knife in this series has amber washed bone handles with a commemorative scene on the front and a "DEFENDING FREEDOM" scene on the back. Additionally, the dates each war officially started and finished are also listed on the front.  There is an amazing amount of exquisite detail etched on these knives.
First, the World War II Trapper has a scene with Uncle Sam and Rosie the Riveter in the foreground with the dates 1941 – 1945, in the background are the Stars and Bars of the American flag. The Korean War Trapper features the iconic 38th Parallel sign and the dates 1950 – 1953. The Vietnam War Trapper has a Huey helicopter with the dates 1959 -1975. An A-10 Warthog is in the foreground of the Operation Desert Storm Trapper with the dates 1990 – 1991.  Featuring an American eagle and the American Flag on the front is The Operation Iraqi Freedom Trapper with the dates 2003 – 2011. The last knife in the series is the Operation Enduring Freedom Trapper, which has the New York City skyline scene with the dates 2001 – 2014.
Finally, each knife in this series has Case's Tru-Sharp surgical steel and nail pulls. These knives also have mirror polished, nickel silver bolsters, brass liners, and brass pins.
Click any thumbnail below to launch a slide show of larger images.

Case War Series Details
Tru-Sharp Surgical Steel, Mirror Polished
3.125″ Clip Point and Spey Blades
Engraved Bone with Amber Color Wash
Slip Joint
4.125″ Closed
7.25″ Overall
Made in the USA
This July 4th, honor those who secured America's freedom with a Case War Series trapper. If you're interested in these knives, click any link in the article or simply click the button below.


All images courtesy of Smoky Mountain Knife Works – smkw.com.