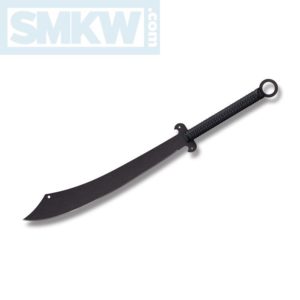 In Crouching Tiger Hidden Dragon Li Mu Bai says, "Sharpness is a state of mind."  To that we say, "Pfft, you should have used the Cold Steel Chinese War Sword Machete. It's sharp right off the bat…even if some of our choices aren't!"
Note: As we've mentioned before, do not try to reproduce what you see in a Cold Steel video. Even if you avoid the things that can result in stitches and do only the "safe" things. Like say you decided to help your spouse prep dinner by chopping the chicken in half, they might get annoyed about such things. Just saying.
The Cold Steel Chinese War Sword Machete is similar in design and look to the Cold Steel War Sword. This awesomely fun machete is full-tang and one-piece constructed out of 1055 carbon steel and features a 24" long and incredibly wide blade. It is further treated with a matte black anti-rust coating that is baked on to maximize corrosion resistance and durability.
The 14" handle is remarkably slip resistant over molded polypropylene and features a ring-shaped pommel. The Chinese War Sword Machete also comes with a lanyard hole and a Cor-Ex sheath with a back strap.
Cold Steel Chinese War Sword Machete Details
24" 1055 carbon steel
One-Piece, Full Tang Construction
Black Coated
Over Molded Polypropylene Handle
Lanyard Hole
Cor-Ex Sheath with Back Strap Attachment
38" Overall
The Cold Steel War Sword Machete is a fabulously fun addition to any knife – or sharp cutting tool – collection. If you're interested in this sword machete, click any link in the article or simply click the button below.


All images courtesy of Smoky Mountain Knife Works – smkw.com.