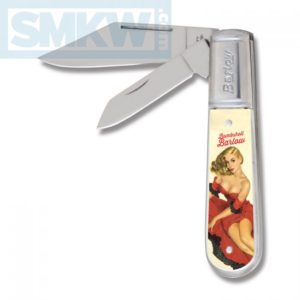 We're not going to bore the daylights out of you by delving deep into the history of the pin-up. We promise we won't make your eyes glaze over by discussing the social relevance of the pin-up.  We're just going to talk about four fun novelty knives with pretty pictures of pretty pin-ups. The Novelty Cutlery Bombshell Barlow series is a fun, inexpensive way to add an interesting dash of color to your everyday carry routine for less than $5.
The Bombshell Barlow series features clear acrylic handles on steel liners with full color art inserts. The design is the same on both the front and back of the knife.  Each knife has a stainless steel 2 5/8" clip point, and a 2" pen blade with a nail nick opening mechanism. The stainless-steel bolsters are stamped. At a 3 ½" closed length, these are an easy carry.
There are four blonde bombshell pin-up barlows in this series: the Fishnet Stockings, the Red Dress, the Black Bikini, and the Red Striped Top.
Click any thumbnail in the gallery to launch a slideshow of larger images.
Novelty Cutlery Bombshell Barlow Details
Stainless Steel
3.5″ Clip Point Blade
2″ Pen Blade
Acrylic Handles with Full Color Insert
Stainless Steel Liners and Pins
Stamped Stainless Steel Bolsters
3.5″ Closed
7″ Overall
Four blonde bombshells, for less than $5 each. You can't beat that with a stick. If you'd like to add one of these Novelty Cutlery Bombshell Barlow to your collection, click any link in the article or simply click the button below.


All images courtesy of Smoky Mountain Knife Works – smkw.com.