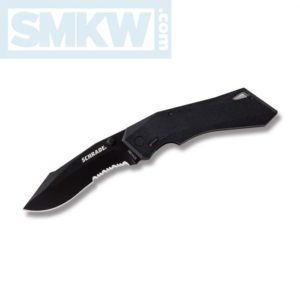 We love saying Schrade Shiznit. It's fun. We also love the hand feel and the spring assisted opening of the Shiznit. It's fun to hold, and more fun to flip.  Most of all, we love that the Schrade Shiznit has all kinds of interesting features and that it is available for only $14.99.
First, the Shiznit has a 3.44" partially serrated, black-coated AUS-8 clip point blade made. The high carbon content means it will be easy to sharpen and hold its edge well. The partially serrated edge exponentially increases the utility, and the false grind on the top just looks cool.
The Shiznit has a spring assisted opening mechanism that is deployed via either the flipper or the ambidextrous thumb studs. The action is outstanding as you'd expect from Schrade's M.A.G.I.C. technology. It also comes with a safety switch feature to ensure your knife stays closed while in the pocket.
There's jimping on the flipper, and the back of the handle has a non-slip surface to help maximize slip resistance.  The black aluminum handles are set on stainless steel liners. They are comfortable in the hand, and the contouring allows for incredibly easy indexing.  The Shiznit also has a tip-up, deep carry pocket clip as well as a lanyard hole.
Schrade Shiznit Details
AUS-8, Black Coated
3.44" Clip Point
Partially Serrated
Aluminum Handle
Stainless Steel Liner
Liner Lock
Spring Assisted
Flipper
Ambidextrous Thumb Studs
Safety Switch
Tip-Up, Deep-Carry pocket clip
Lanyard Hole
4.5" Closed
7.75" Overall
The Schrade Shiznit is not just a fun name to say, it's knife to use and the cost won't break your budget.  If you're interested in this knife, click any link in the article or simply click the button below.


All images courtesy of Smoky Mountain Knife Works – smkw.com.