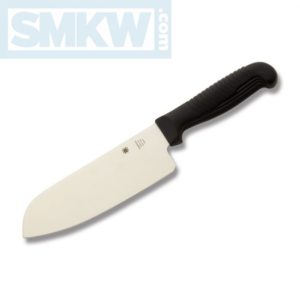 Did you know your favorite pocket and fixed blade knife companies often carry kitchen knives? They do. Take, for instance, the Spyderco Santoku.  Spyderco tells us, "Spyderco's involvement in kitchen knives dates back to the early 1980's and the beginnings of the company's knife production. After being discontinued a number of years ago, they are now back by popular demand and better than ever." Additionally, Spyderco was the first commercial knife manufacturer to bring the Santoku to the American marketplace.
The Spyderco Santoku is somewhere between a traditional Asian cleaver and a western chef's knife. This knife is perfect chopping, mincing, and dicing pretty much anything in the produce section. It sliced through onions so cleanly, we only shed a few tears.
It features an extremely thin 6.81" MBS-36 blade. The shorter length of this knife increases its versatility exponentially. More importantly, the massive width on the blade not only protects your fingers, the spine of the blade essentially doubles as a scoop. Once you've finely minced all the vegetables you can easily scoop the back of the blade to move produce from cutting board to bowl.
The curved edge easily rocks, allowing a fantastic chopping action. The edge is extremely thin and exceptionally sharp. Finally, Spyderco tells us the blade has been "meticulously heat treated for optimal edge retention."
The polypropylene handle is molded into a stepped texture directly onto the tang of the blade for optimal comfort and slip resistance.
Finally, at only 5.2 ounces the light weight of this knife will allow for extended use without excess fatigue.
Spyderco Santoku Details
MBS-36 Stainless Steel
6.81" Sheepsfoot
Full Flat Grind
Injection Molded Polypropylene Handle
12.06" Overall
5.2 Ounces
Overall, if you love Spyderco knives, you'll love the Spyderco Santoku. If you're interested in this knife, click any link in the article or simply click the button below.



All images courtesy of Smoky Mountain Knife Works – smkw.com.