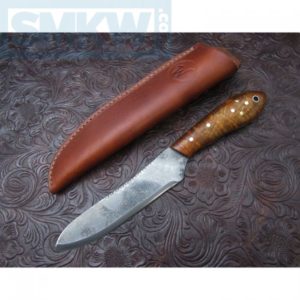 Have you heard of Woody Handmade Knives? They're gorgeous custom knives with a unique appearance, available at an affordable price.  Each knife from Woody Handmade's shop is hand forged in third generation blacksmith, Frank "Woody" Bridewell's shop in Greenville County.
Woody tells us, "Here at Woody Handmade, we pride ourselves in producing a knife that is affordable… Knives are made the same way they were made three generations ago. Authentic, all-American, each knife is individually hand made so it is truly one of a kind. Truly unique in every respect."  What Woody didn't mention, but we're more than happy to, is that the knives he produces are truly beautiful works of art that are as durable as they are gorgeous.
No two knives from the Woody Handmade line will be identical.  However, there are similarities that run throughout the line, and there are knives that tend toward a recurring pattern. For instance, the Weatherford Hunter features a 4.125" modified drop point blade with a recurve edge similar in style to what Nessmuk describes as his ideal blade shape. It also has filings on the spine and a contoured handle. If you have two Woody Handmade Weatherford's, then you'll have two unique knives that are a similar style.
Each knife in Woody Handmade line is forged out of 1095 carbon steel with a full tang, so they will easily take and hold a razor-sharp edge. They are then coal fired, oil quenched, and oven tempered. Additionally, each knife features a blade with a unique profile, with a typically long slicing edge.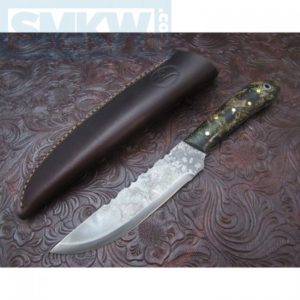 We're fairly certain no Woody Handmade knife has a handle that is anything other than exquisite. The handles are made from various beautiful materials ranging such as the stunning curly maple micarta or the uniquely fabulous burlap micarta.  Each handle is secured with bronze pins and features a bronze lanyard tube.
The hand feel on these knives is outstanding. The handles are smooth. The blade etches are incredibly eye catching.
Finally, each knife from Woody Handmade features a hand stitched, vegetable-tanned, top grain leather sheath.
Woody Handmade Knives Details
1095 Carbon Steel
Full Tang Construction
Filings on Spine
Bronze Pins
Brass Lanyard Tube
Leather Sheath
Made in USA
If you've ever wanted to own a custom knife, there's no better place to start than with Woody Handmade Knives. If you're interested in these knives, click any link in the article or simply click the button below.


All images courtesy of Smoky Mountain Knife Works – smkw.com.