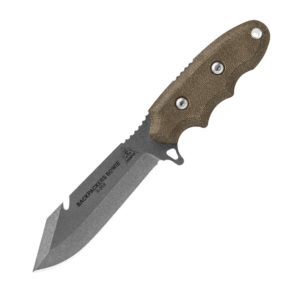 TOPS knives releases the TOPS Backpacker's Bowie. TOPS tells us they wanted to make a smaller version of the traditional Bowie that would be ultralight, carry-friendly for backpackers and hikers. With the addition of the dual purpose built within this knife and at only 7.2 ounces, we think they succeeded beautifully.
Oftentimes every ounce matters when you're packing your gear for your outdoor adventure. Sometimes you sacrifice durability and ruggedness to save that extra couple of ounces of weight. The TOPS Backpacker's Bowie is designed with those needs in mind.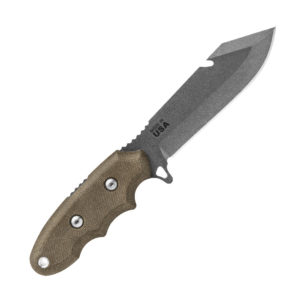 It features a 4.5" 1095 clip point with a tumble finish. Additionally, it has a remarkable 0.16" blade thickness. That makes this knife as sturdy and durable as anyone could possibly want. There's a significant amount of jimping on the spine of the blade. The swedge at the tip can be sharpened for maximum piercing, and there's a notch on the spine which TOPS tells us, "is for breaking wire or pulling a pot out of the fire…"
The  contoured green canvas micarta handles provide excellent indexing and a comfortable grip. There's jimping on the back of the handle to add an extra measure of slip resistance, and the handles are secured with dual rivets. There's also an integral guard that doubles as a lashing point and a lanyard hole.
Finally, the Backpacker's Bowie includes a sturdy Kydex sheath. This sheath attached with a rotation clip made from spring steel. This means you can carry your knife your way.
TOPS Backpacker's Bowie Details
1095, Tumble Finish
4.5" Clip Point
56-58 HRC
0.16" Blade Thickness
Canvas Micarta Handle
Lanyard Hole
Kydex Sheath with Rotating Spring Steel Clip
8.25" Overall
7.2 oz
Made in the USA
Overall, the TOPS Backpacker's Bowie is a perfect addition to your outdoor adventure gear. Make sure you pre-order yours today. Click any link in the article or simply click the button below to find this knife.


All images courtesy of Smoky Mountain Knife Works – smkw.com.