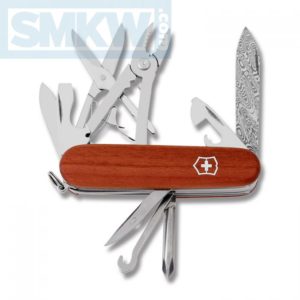 It's not very often we're willing to proclaim a knife – much less an expensive knife – is sure to be a collectible that will someday gain in value, but we feel the Victorinox Delux Tinker Damast Limited Edition 2018 just might be the exception. Why?  First, they've limited the production to only 6,000 pieces worldwide. Additionally, each knife has sequential numbering, and is packaged in an elegant collector's box. Finally, it has the 2.625" spear point… Here. Victorinox will tell you about it. "The blade is crafted in super durable Damast steel "Ladder" (DS93X™) – comprised of a ground-breaking 333 forged layers. Impressive!"  Indeed it is, Victorinox. Indeed it is.
In addition to the Damast steel blade, the Delux Tinker Damast Limited Edition features gorgeous plum wood scales.  If you've never seen plum wood before, it has a huge range of colors from browns and yellows, to pinks and purples. Yes, we said purple. You'll see plum wood most often in instruments and jewelry boxes.
Finally, the Delux Tinker pocket knives are of the 15-function variety making them the most useful pocketknives for the least amount of pocket space. At only 3.6" closed and with a weight of only 4.3 ounces, they're light enough for even the smallest of pockets.
Victorinox Deluxe Tinker Damast Limited Edition 2018 Details
Stainless Steel Tools
DS93X – Ladder Pattern Damast
Sequentially Numbered
2.625" Spear Point, Mirror Polish
1.5" Stainless Steel Pen Blade
Can Opener/Small Screwdriver
Bottle Opener/Large Screwdriver/Wire Stripper
Reamer with Sewing Eye
Tweezers
Phillips Screwdriver
Scissors
Hook
Pliers with Wire Cutter and Wire Stripper
Toothpick
Key Ring Attachment
Collectors Box
3.625" Closed
Made in Switzerland
Overall, the Victorinox Delux Tinker Damast Limited Edition pocketknives are an excellent addition to any knife collection.  They're also in extremely limited supply so make sure you get yours before they're gone. If you're interested in these knives, click any link in the article or simply click the button below.


All images courtesy of Smoky Mountain Knife Works – smkw.com.