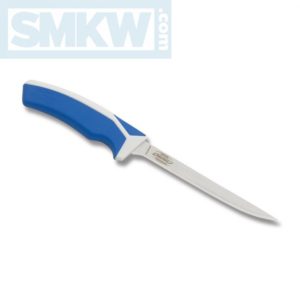 Is dropping your knife really that common? Sometimes, yes. I suspect while cleaning fish, dropping your knife happens quite often, so let's pretend it's the middle of the summer and your knife doesn't float.  Maybe you've lost your fillet knife to the depths of the lake, ocean or river. For a low-cost replacement knife, you can't go wrong with the Williamson Martiini Fillet Knife.
Why? Because it's sharp straight out of the box. It has a non-slip handle, so it shouldn't be slippery. Because maybe if you did accidentally drop it in shallow water, you'd be able to see it and fish it right back out again as the blue and white handles are sure to stand out in even the murkiest of waters. Best of all, it's now available for less than $20.
The Williamson Marttiini Fillet Knife comes in two different blade types. One has a 6.75" slim, progressively tapered flexible blade made from European stainless steel which is perfect for boning delicate, small boned fish. The other has a 6.75" straight blade, also made out of European stainless steel. The straight blade variation is not a flexible knife, which makes it more suited for large fish or game.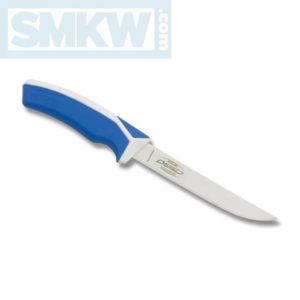 Both knives come wicked sharp, straight out of the box. They also take and hold a fine, razor sharp edge with ease.  Each knife also has a mirror polish, which makes cleaning your knife simple.
The ergonomic handles are co-molded polymer and feature a non-slip grip. They're easy to index and have a really nice hand feel.
Williamson Marttiini Fillet Knife with Blue and White Handle Details
6.75" European Stainless Steel
Progressively Tapered Blade, Mirror Polish
Full Tang
Co-Molded Polymer Handle with Non-Slip Grip
12.5" Overall Length
Made in Finland
If you've never used a Marttiini knife before, the Williamson Marttiini Fillet Knife is a fantastic place to start. If you're interested in these knives, click any link in the article or simply click the button below.


All images courtesy of Smoky Mountain Knife Works – smkw.com.