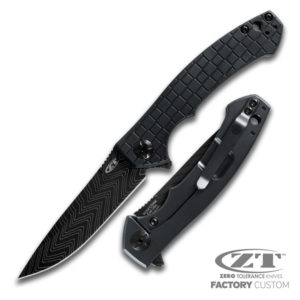 Tualatin, Oregon – Zero Tolerance announces the release date for their latest Factory Custom, the ZT 0450FCDAM. Zero Tolerance has partnered with renowned designer, Dmitry Sinkevich to release a true gem of a limited edition ZT. The ZT 0450FCDAM features authentic, Devin Thomas Herringbone Damascus steel and patterned titanium handle with gray DLC coating. The 0450 pattern is among the best selling ZT patterns of all time.
As with all true Limited Edition Factory Customs, ZT makes them available through select dealers at a specific date and time.  Select Dealer, Smoky Mountain Knife Works – smkw.com – has a limtited number of this model and will make them available on July 12, promptly at noon eastern. SMKW has been kind enough to set up a landing page for the product already, so you can learn more and bookmark the page. Retailers cannot take pre-orders for ZT factory customs.
ZT 0450FCDAM Details
Custom Sinkevich hardware, titanium clip, and machining on front handle.
KVT ball-bearing opening with flipper
Titanium frame lock, hardened steel lockbar insert
Devin Thomas, Herringbone Stainless Damascus blade
Titanium handle with gray DLC
Made in the USA
Click on any thumbnail below to launch a slide show of larger images. 
Finally, the ZT 0450FCDAM is MAP priced at $400 each, and they will go fast. To get one, simply click any link in this article or the button below, bookmark the page, and be ready on July 12 at 12pm (EST). Good luck.