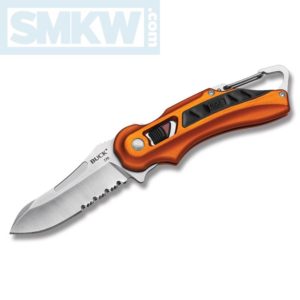 We had the chance to handle a Buck FlashPoint the other day. It took a minute to get used to a different opening and closing mechanism, but after a few minutes, we were in love. Not only does it have a fun twist on opening and closing your knife, it also has a few other fantastic features for a modern folder.  Best of all, you can pick one up for less than $40.
With the SafeSpin technology, the Buck FlashPoint has a unique opening and closing mechanism. Push in the slide lock, then spin the wheel next to your thumb and the partially serrated 420HC drop point slides right out. To close the knife, simply reverse the process. This is nice because your fingers are literally never in the blade path. Which means you're significantly less likely to cut yourself. We could probably manage it, but we'd probably have to work at it.
The aluminum handles are very eye-catching and feature a rubberized insert to help with slip resistance. They also house a bottle opener. This is always a welcome addition to almost any knife.
Finally, this knife does not include a pocket clip. Instead, it's a carabiner carry.  This makes it convenient to carry other stuff with your knife, if you like doing such things.
Buck FlashPoint Details
420HC, Satin Finish
2.875" Drop Point, Partially Serrated
Aluminum Handles
SafeSpin Opening
Slide Lock
Carabiner
Bottle Opener
4.5" Closed
7.375" Overall
Overall, the Buck FlashPoint is a fun and interesting knife you can pick up for $40 or less. If you're interested in this knife click any link in the article or simply click the button below.


All images courtesy of Smoky Mountain Knife Works – smkw.com.