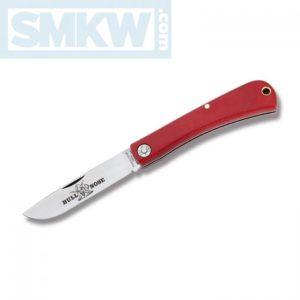 "Oh my God, Becky. Look at her butt. It's so big…and round…" Today it's all about the Bullnose, baby! The GEC pattern #71 Bullnose is one of the most wildly popular knives made by Great Eastern Cutlery under the Farm and Field Tool label. It's like a sodbuster but with an itty-bitty waist (poetic license aside, Editor, it's just a touch skinnier)* and it definitely has a curvier butt.  If you've never tried a GEC knife, this is the one to try.
Featuring a  3", 1095 carbon steel, drop point with a satin finish, the Bullnose is built to be workhorse. GEC hardens them a touch bit more than you'd expect, and this adds to edge durability while keeping it easy to sharpen.
The detent on these knives is pretty tight. You're not going to accidentally spring it open or closed haphazardly. Additionally, there are half stops to help keep you from accidentally snapping it closed on your fingers.
The handles are super comfortable. It's rounded in all the right places, with no painfully pointy bits to wear you out while you're working. The waist tapers down and gets smaller right about the point where you grip the knife. Additionally, the handles on the Bullnose feel a bit thicker than you'd expect.  We think that just enhances this knife.
The fit and finish is exceptionally good, just like all GEC knives. Currently, there are five different handles to choose from: red linen micarta, burlap micarta, muslin canvas micarta, OD green linen micarta, and orange Delrin.
Click any image in the slideshow to launch a gallery of full-sized images.
GEC #71 Farm and Field Tool Bullnose Details
1095, Satin Finish
3" Drop Point
Slipjoint
Micarta or Delrin Handles
Stainless Steel Liner
Brass Pins
Lanyard Hole
3.875" Closed
6.875" Overall
2.2 Ounces
Made in the USA
Overall, we love the GEC Pattern #71 Bullnose. They're the perfect addition to any knife collection. If you're interested in these knives, click any link in the article or simply click the button below.


All images courtesy of Smoky Mountain Knife Works -smkw.com.
*Editor's note: We apologize for using the term "itty-bitty waist," without using the required "round thing in your face" or getting "sprung."