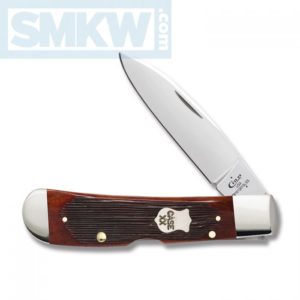 Case released the new Case Barnboard Chestnut Bone series. This gorgeous series features bone handles jigged to give them a classic wood grain like you might find in old barn wood. The finish on these knives is a beautiful deep reddish-brown chestnut color. Additionally, a nickel silver Case XX Badge shield is a great accent on the handles of the knives in this series.
Each knife in this series features Tru-Sharp surgical steel blades, and they each have nickel silver bolsters, as well brass pins and liners.
Of special note is the Case Tribal Lock pattern and the Folding Hunter pattern in this series. The Case Barnboard Chestnut Bone Tribal Lock is the only pattern in this series with a stainless steel, tip-down pocket clip and a lockback.   The Folding Hunter comes with a branded leather sheath.
This series is available in the following patterns: Stockman, Muskrat, Peanut, Folding Hunter, Butterbean, Slimline Trapper, Trapper, and Tribal Lock.
Click any image in the following gallery to launch a slideshow of full-sized images.
Case Barnboard Chestnut Bone Details
Case Tru-Sharp Surgical Steel, Mirror Polish
Barnboard Jigged Bone
Lockback on the Tribal Lock Pattern
Nickle Silver Bolsters
Brass Pins and Liners
"Case XX USA" Pewter Shields
Branded Leather Sheath on the Folding Hunter Pattern
Made in the USA
Overall, the Case Barnboard Chestnut Bone series is a gorgeous addition to the Case family. If you're interested in these knives, click any link in the article or simply click the button below.


All images courtesy of Smoky Mountain Knife Works – smkw.com.