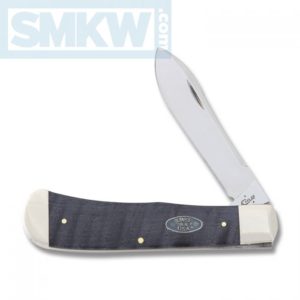 The new Case Smooth Black Curly Maple pocketknives are available in six different patterns, and they are gorgeous. The BackPocket pattern is our favorite. At 4.625″, it's the largest knife with the thinnest profile in this series. As such, we think it best displays the beautiful grain in the handles.
The Case Smooth Black Curly Maple series handles have a beautiful coloration with both dark and light wood grain that range from black to a light dove grey. The nickel silver bolsters highlight the beauty of the beautiful wood grain. Additionally, the handle has the Case XX USA pewter shield.
These knives feature mirror polished Case Tru-Sharp surgical steel blades with half stops. And, as is generally true with most Case pocketknives, they feature brass pins and liners.
The Case Smooth Black Curly Maple series comes in the following patterns:  the BackPocket, Trapper, the 2018 exclusive Doctor's Knife, Small Stockman, Small Texas Tooth Pick, Mini Trapper, Sowbelly, and the Lockback pattern.
Click any image in the slideshow to launch a gallery of full sized images.
Case Smooth Black Curly Maple Series Details
Case Tru-Sharp Surgical Steel Blades, Mirror Polish
Smooth Black Curly Maple Handles
Nickle Silver Bolsters
Brass Pins and Liners
"Case XX USA" Pewter Shields
Made in the USA
The gorgeous Case Smooth Black Curly Maple pocketknives make the perfect addition to any knife collection. If you're interested in these knives, click any link in the article or simply click the button below.


All images courtesy of Smoky Mountain Knife Works – smkw.com.