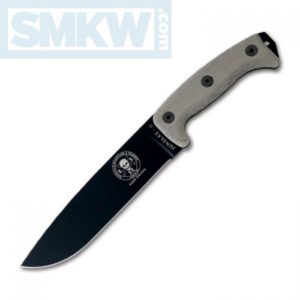 The Junglas is an amazing bushcrafting knife. It's somewhere between a machete and a camp knife that is beloved by bushcraft and survival folks everywhere. The ESEE Junglas-II is even better.  It's two inches shorter, and those two inches make a huge difference.
With a 8.38″, 1095 powder coat finished blade and an overall length of 14.5", the Junglas-II will chop, slice, hack, and baton just like the original. However, it's slightly shorter length makes it better for some of the smaller camp tasks.
It has the same durable thickness of 0.188" as the original Junglas, but the new version is a bit lighter, which means it will be a bit easier to carry.  Additionally, the shorter length will be a bit less cumbersome because it decreases the weight to 19.8 ounces.
The incredibly durable and slip resistant, canvas micarta handle feels comfortable in your hand, and the Junglas-II comes with a Kydex sheath with a MOLLE back. The knife fits very securely in the sheath.
Finally, and as always, the ESEE Junglas-II comes with ESEE's famed and fantastic "No Questions Asked" lifetime guarantee. If your knife breaks while you're chopping, hacking, and batoning – for any reason at all – give ESEE a call, send back the knife, and they'll replace it. No questions asked.
ESEE Junglas-II Details
1095, Black Powder Coated
8.38" Drop Point
55 – 57 HRC
.188″ Blade Thickness
Kydex Sheath with MOLLE Back
14.5" Overall
19.8 Ounces
Made in the USA
Overall, the ESEE Junglas-II is an outstanding addition to the ESEE family. If you're interested in this knife, click any link in the article or simply click the button below.


All images courtesy of Smoky Mountain Knife Works – smkw.com.