Sometimes it's fun to toss a conversation piece into your pocket dump or daily carry rotation. You don't need an item that will break the bank. You just need something fun.  There's generally no better, more cost-effective way to do that than with a Rough Rider Mini. Specifically, the Rough Rider Mini Razor. It's less than $5, and it's fun.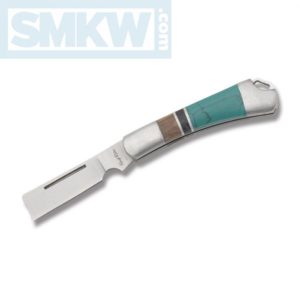 The folding Rough Rider Mini Razor features a 1.5" stainless steel razor blade. It's somewhat sharp straight out of the box, and we're sure that with enough elbow grease, you can sharpen it to a shaving edge… if you want to shave one hair at a time.
Mounted on stainless steel liners, this mini razor has wood and imitation turquoise handles with black accents. It's not rugged. It's just pretty. Additionally, it has stainless steel bolsters and spacers.
Finally, this knife has a lanyard hole. That makes it useful not just as a conversation piece for pocket dumps, but also as a conversation piece with your keys pics. Just in case you're not the fun-pocket-dump sort, the Rough Rider Mini Razor comes packaged in a collector display box. That makes it a perfect gift.
Rough Rider Mini Razor Details
440 Stainless
1.5" Razor
Wood and Imitation Turquoise Handles with Black Accents
Stainless Steel Liners, Bolsters, and Spacers
Lanyard Hole
2.125" Closed
3.625" Overall
Collector Display Gift Box
Minis are a great way to add an interesting conversation piece to your next pocket dump. At less than $5.00, you can't go wrong with the Rough Rider Mini Razor.  If you're interested in this knife, click any link in the article or simply click the button below.


All images courtesy of Smoky Mountain Knife Works – smkw.com.