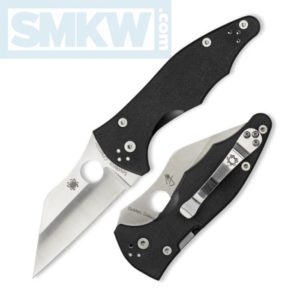 Designed by Michael Janich as a tool for personal security, the Spyderco Yojimbo 2 might be one of our favorite EDC Spyderco knives. It's a lot of knife, without a lot of weight, that rides easily in your pocket. The practical blade profile is also incredibly useful for a multitude of daily tasks.  Finally, and perhaps most importantly, the Yojimbo 2 just looks super cool.
This knife features a 3.11" S30V Wharncliffe straight-edged blade with a hollow grind. While the original Yojimbo pioneered the use of a Wharncliffe blade in a tactical folder, the Yojimbo 2 takes that design and improves on it.
Spyderco tells us, "The refined ergonomics of the Yojimbo 2 complement the natural contours of the hand, ensuring maximum surface contact and positive control." Additionally, the improved blade shape on the Yojimbo 2 give this knife better edge geometry and a stronger point.
The action on this knife is fantastic. Of course it has the expected thumb hole blade deployment. However, it is also a compression lock which means that you can open and close this knife while keeping your fingers entirely out of the blade path.
The fit and finish on the Yojimbo is superb. The G-10 handles are smooth and comfortable, with no extraneous abrasion spots or rough edges.
Finally, for a wider knife this is an incredibly easy carry. It's lighter than you expect and it has fantastic contouring. It also has a fully reversible, four position pocket clip for ambidextrous carry.
Spyderco Yojimbo 2 Details
CPM-S30V, Satin Finish
3.125" Wharncliff
G-10
Compression Lock
Thumb Hole
Fully Reversible Pocket Clip
4.5" Closed
7.5" Overall
Made in the USA
Overall, the Syderco Yojimbo 2 is an awesome knife and a fantastic addition to any EDC rotation. If you're interested in this knife, click any link in the article or simply click the button below.


All images courtesy of Smoky Mountain Knife Works – smkw.com.