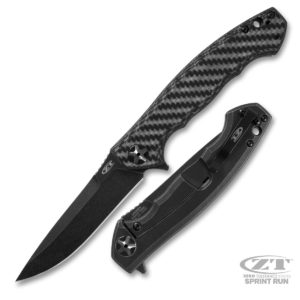 Tualatin, Oregon – Zero Tolerance announces a new ZT 0452WBW Sprint Run. This ZT Sprint Run is based on the top-selling, Dmitry Sinkevich designed 0452. It features a white carbon fiber front scale (instead of black) and Blackwash DLC titanium back scale. The blade remains S35VN but is now Blackwash DLC as well.
This popular pattern has always featured S35VN steel, which sharpens to a razor edge, holds it, and can be resharpened easily. The 0452WBW opens as smooth as butter with the KVT ball-bearing opening system and built-in flipper. A titanium frame lock with hardened steel lockbar insert ensures solid lock up. As a final touch of class, the 0452WBW features unique 5-spoke pivot hardware.
ZT 0452WBW Details
KVT ball-bearing opening system
Manual Flipper
Frame lock
Reversible deep-carry clip (left/right, tip-up)
Steel: Blackwash DLC CPM-S35VN
Handle: White Carbon fiber front, Blackwash DLC titanium back
Lanyard hole
Blade Length: 4.1 in. (10.4 cm)
Blade Thickness: 0.156 in. (0.396 cm)
Closed Length: 5.2 in. (13.2 cm)
Overall Length: 9.3 in. (23.6 cm)
Weight: 4.3 oz. (122 g)
Made in the USA
Click on any image below to launch a slide show of larger images.
You can't go wrong with a ZT, and a ZT Sprint Run is icing on the cake. This ZT 0452WBW Sprint Run is sure to be no exception. If you're interested in getting one of these, we suggest you act fast. Simply click any link in this article or the button below.