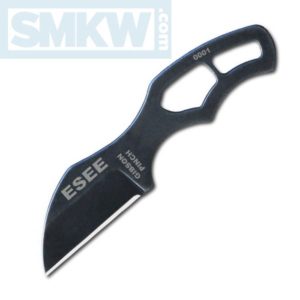 Designed by James Gibson, the ESEE Gibson Pinch is an incredibly small, reasonably priced Wharncliffe neck knife. Weighing in at only one ounce, it's an easy everyday carry you can get for less than $50. Perhaps the most unique feature of the Gibson Pinch is the included magnetic sheath.
Only 3.4" overall, the Gibson Pinch features a 1.3" 1095 carbon steel Wharncliffe blade with a black oxide coated stonewash finish. The spine of the blade has a great grip you can choke up on and the contoured handle is skeletonized.
The unique sheath is magnetic, so the blade snaps into place making it easy to stow or remove. It then attaches to your preferred carry system (necklace or maybe even a key chain) with a lanyard hole.
This knife weighs about an ounce. Between the lightweight and easy carry, the magnetic sheath, and the size of the knife itself, the Gibson Pinch is an easily carried small fixed blade.
ESEE Gibson Pinch Details
1095, Black Oxide Coated
1.3" Wharncliffe, Stonewash Finish
55-57 HRC
3.4" Overall
Molded Polymer Magnetic Sheath
1 ounce
Made in the USA
The ESEE Gibson Pinch is a great EDC knife. If you're interested in this knife, click any link in the article or simply click the button below.


All images courtesy of Smoky Mountain Knife Works – smkw.com.