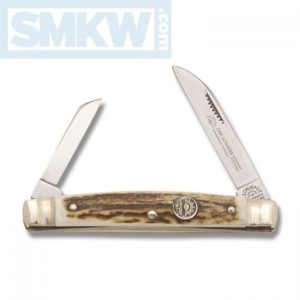 We should confess that before we started writing this article, we'd never heard of Eye Brand knives. Apparently, we weren't alone. When you search for information about them online, you see a lot of folks asking, "Who is Eye Brand?"
They've been handmaking and hammer forging knives in Solingen, Germany for the last hundred years or so. There's an incredibly long (and potentially boring) history of the company. Rather than make the Editor's eyes glaze over, I'll quickly sum up:  Way back in mid to late 1700s, Carl Schlieper Stahlwarenfabrik & Export manufactured all sorts of things in Remscheid Germany, including various types of knives.  The company produced a variety of knife brands in their Solingen factory.  Sometime after World War II, The Eye Brand was born. They've been making these knives in the same Solingen plant for well over one hundred years.
Each knife in the Eye Brand is unique and reflects the qualities you'd expect from a handmade and hammer forged pocketknife. The rarity of the brand, the quality of the steel, and the beauty of the knife itself is simply incredible. The Solingen carbon steel in in the knives is notorious for easily taking and holding an edge.
The Eye Brand Stag Half Congress features a 2.125" Solingen carbon steel Wharncliffe blade and a 1.75″ coping blade. It has beefy stag handles mounted on brass liners. There are nickel silver pinched bolsters and match strike pulls.  The tension on these knives is just right – not too tight and not too loose.
Eye Brand Stag Half Congress Details
Carbon Solingen Steel, Satin Finish
2.125" Wharncliffe
1.75" Coping
Slipjoint
Stag Handles
Brass Pins and Liners
Match Strike Pulls
Nickel Silver Pinched Bolsters
Eye Brand Shield
3.5" Closed
5.625" Overall
Made in Solingen, Germany
Eye Brand knives are unique traditional slipjoint folders that are the perfect addition to any knife collection. If you're interested in these knives, click any link in the article or simply click the button below.



All images courtesy of Smoky Mountain Knife Works – smkw.com.