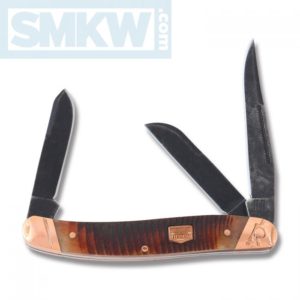 The new Rough Rider Backwoods Bushcrafter series is like nothing we've seen, and it's love at first sight. Whoever came up with the name of this series nailed it. From the blackwash (almost tumbled looking) finish to the copper bolsters, liners and pins, it looks like a well-worn, well-used, seriously loved-on traditional pocketknife that was put together in the bush with the materials the maker had at hand.
This exquisite and unique series from Rough Rider features pinched, lined, and stamped slant copper bolsters, as well as copper liners copper pins, all of which will patina in a unique way over time. We were shown a factory sample that had been untouched for six months, and the bolster patina was magnificent.
The sawcut amber bone handles have an old world, worn-in look and feel, and Rough Rider has added a new "Always Ready" copper shield to this series, which ties the overall look of the knives in a beautiful way. Best of all, these knives are all about $15.00.
The stainless-steel blades are blackwash finished (we'd swear they'd been tumbled too but can't verify it). They have half stops and match strike pulls. It's just another old world touch that makes this Rough Rider damn near perfect.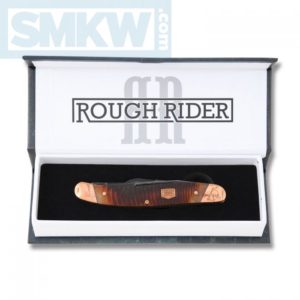 Finally,we mustn't forget to mention the packaging on this series because even the box comes with a fantastic eye for detail. Each knife comes in a collectable magnetic box, and just like with the knives, no detail escaped the designers eye. The background image is a deep woods scene, with the series name capped with a mountain logo. Finally, the box itself has been touched with the look of copper on both the RR logo and the back-to-back R shield.
Insider Info
Rough Rider tells us this series will eventually be available in the following patterns: Stockman, Trapper, Hawkbill, Folding Hunter, Doctor's Knife, Folding Chopper, and a Double Lock.
Rough Rider Backwoods Bushcrafter Series Details
440 Stainless, Blackwash Finish
Half Stops
Match Strike Pulls
Sawcut Bone Handles
Copper Pins and Liners
Rough Rider Copper "Always Ready" Shield
Pinched, Lined, Stamped, and Slant Copper Bolsters
Backlock on the Double Lock Pattern
Linerlock on the Folding Hunter Pattern
The Rough Rider Backwoods Bushcrafter knives are absolutely gorgeous, affordable knives that perform far beyond their price point.  Click any link in this article or simply click the button below to get yours now.


All images courtesy of Smoky Mountain Knife Works – smkw.com.