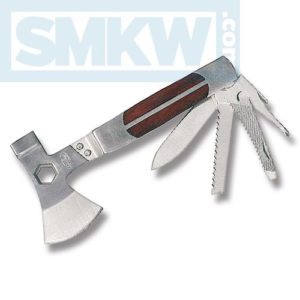 The Sheffield 12301 Camper features 12 tools in one compact unit. It might have all the things you want when you go camping. We like it because it's something you don't see every day – an axe-multitool. And, you can get one for about $15.
This multi-tool features a 3/4″ thick, 3" axe head with a cutting surface of 1.75". The head has a cut out for hex key wrench (like you might fond on an oxygen tank). The back of the axe doubles as a spike hammer.
The stainless steel body has an orange composite insert and houses a plethora of blades and other tools, including a 2.5" stainless steel drop point edge blade and a 2.5" wood saw blade with a hook remover tip. Check out the complete list of tools in the details below.
Sheffield Camper Heavy Duty Multitool Details
Stainless steel, satin finish
Axe Head with Spike Hammer Back
Hex Key Wrench
2.5" Drop Point
2.5" Wood Saw with Hook Remover Tip
1.4" Slotted Screwdriver, Fish Scaler, Ruler, Soft File
#0 Phillips Screwdriver, Bottle Opener
For less than $15, you can't go wrong with the Sheffield 12301 Camper 12-in1 Multi-Tool. If you're interested in this item, click any link in the article or simply click the button below.


All images courtesy of Smoky Mountain Knife Works – smkw.com.