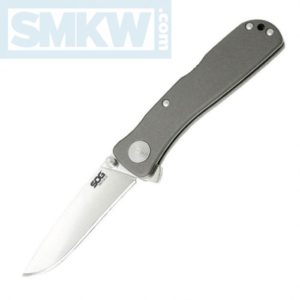 The light weight SOG Twitch II  has a slim profile that practically disappears in your pocket, and it's an excellent value.  It has a clean, simple appearance without any overt fussiness. It's loaded with subtle features like spring assisted opening, and a dual-purpose pocket clip, and best of all, you can pick it up for less than $20.
The SOG Twitch II features a 2.65" AUS-8 satin finish drop point with a full flat grind. One of the complaints about AUS8 is that it doesn't hold an edge forever like, say, M390. The flip side of that argument is that M390 costs a lot more, and it takes days to sharpen it back to out of the box sharpness, much less the razor sharpness some folks prefer. Between the full flat grind and the steep angle on the secondary bevel, this is a super easy knife to sharpen.
It opens with either ambidextrous thumbstuds or a flipper that uses SOG's patented SOG Assisted Technology (S.A.T.) which, "…works through the balance of opposing high-tension coil springs. As you initiate the opening action, the force propelling your blade open becomes greater than the force keeping it closed. The result is a blade that springs open instantly once it is engaged, seemingly on its own."  The Twitch II also has a pass through lockback and a safety lock.
The SOG Twitch II has a slim profile and a light weight. This is an easily carried pocketknife that practically disappears in the pocket.  The anodized aluminum handles are the perfect amount of slip resistance.
Finally, this knife has a reversible tip-up pocketclip that doubles as a money clip. It also has a lanyard hole.
SOG Twitch II Details
AUS-8, Satin Finish
2.65" Drop Point
57-58 HRC
Anodized Aluminum Handle
SOG Assisted Technology
Ambidextrous Thumb Studs
Flipper
Lock Back
Tip-Up Pocket Clip
Lanyard Hole
3.55" Closed
6.20" Overall
2.6 Ounces
For less than $20, you can't go wrong with the SOG Twitch II. If you're interested in this knife, click any link in the article or simply click the button below.


All images courtesy of Smoky Mountain Knife Works – smkw.com.