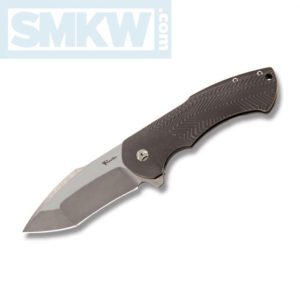 Designed by custom knifemaker Rick Barret, the Reate Fallout 2.0 is a beautiful and flawlessly executed knife. It has a big beefy blade and comfortable handles, and the action is outstanding. The balance is incredible. But most remarkable of all, it's nowhere near as heavy as you'd expect for such a large knife.
Available in two different models, the Fallout 2.0 has a very wide, 3.6" long CTS-204P blade that comes with either a two-tone finish (mirror polished and stonewash) model or a model that has just a stonewash finish. The blade shape on this knife is interesting in that it has a modified tanto with a slight recurve edge and a harpoon style spine.
The action on this knife is fantastic, especially given the sheer size of the blade. The ceramic caged bearing pivot makes opening this knife super smooth and easy. The jimping on the flipper is a great touch too.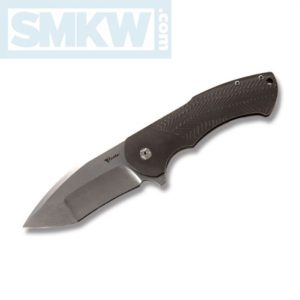 The full titanium handles on the Fallout 2.0 provide a lightweight and durable build. They've also been CNC milled in a rather unique way. They're ridged enough to maintain a solid grip but they aren't at all uncomfortable. The result is that this knife has a great grip and fantastic feel in your hand.
They've reinforced the framelock with a lock bar insert for a solid lock up. The backspacers are titanium which, in addition to the complex grinds and cutouts, help keep the overall weight on this knife at a reasonable 6.4 ounces. Finally, the Reate Fallout 2.0 comes with a titanium tip-up pocket clip and a lanyard hole.
Reate Fallout 2.0 Details
CTS-204P
3.6" Modified Tanto with a Harpoon Spine
60-62 HRC
Titanium Handle
Framelock
Flipper with Ceramic Bearings
Tip-Up Pocket Clip
6.4 Oz
Overall, the Reate Fallout 2.0 is a great knife. If you're interested in this knife, click any link in the article or simply click the button below.


All images courtesy of Smoky Mountain Knife Works – smkw.com.