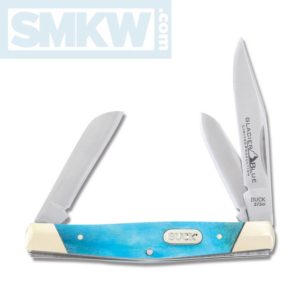 The new Buck Knives Glacier Blue Bone pocketknives have a unique color to them, and we like it. This is a limited production run you can get for less than $25. We don't expect they'll last long so make sure you get yours now.
First, each knife in this series features 420 J2 stainless steel with nail nick openers and a master blade etch.  Mounted on brass liners with nickel silver pins, these knives have beautiful smooth glacier blue bone handles. The not-quite-sky blue is both varied and beautiful.
Finally, the Buck Glacier Blue Bone pocketknives are available in the following patterns: Small Stockman, Toothpick, Trapper, Canoe, and Small Toothpick. Of particular note is the Large Toothpick. It's has a 4″ closed length and both a 3″ clip point and a 2.25″ pen blade. It's not terribly common to see a two bladed toothpick these days.
Click any thumbnail in the following gallery to launch a slideshow of full-sized images.
Buck Knives Glacier Blue Bone Details
420 J2, Satin Finish
Nail Nick
Glacier Blue Smooth Bone Handles
Brass Pins and Liners
Nickel Silver Bolsters
The Buck Knives Glacier Blue Bone pocketknives are great looking knives. To get these knives, click any link in the article or simply click the button below.


All images courtesy of Smoky Mountain Knife Works – smkw.com.