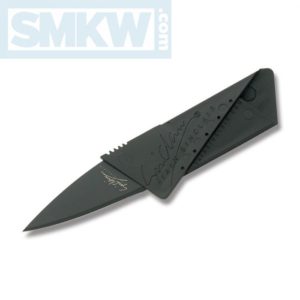 Remember when Transformers were new? The first time we saw the Iain Sinclair Cardsharp Credit Card Folding Safety Knife, it reminded us of the first time we transformed a Transformers toy. You push this thing over here, then you flip that thing over there, and finally you fold the whole thing like that and BOOM, you have a whole new toy.  We had way more than $12 worth of fun with the Cardsharp Credit Card Folding Safety Knife.
The Cardsharp is about the size of a credit card, so it will easily fit in most wallets. Housed in a folding polypropylene case is a 3.5" stainless steel, spear point blade with either a satin finish or black coating.
Here's how it works. Turn the safety dial until the point pops out. Pull the knife down. Fold one side, then fold the other. The folds then snap into place to securely hold the blade out and form a handle (with a choil to boot).
To put it away, just reverse the whole thing.  Just in case you aren't the sort that likes to figure out how to transform your transformers on your own, it also comes with an instruction booklet.
Cardsharp Credit Card Folding Safety Knife Details
420 Stainless Steel, Satin Finish or Black Coated
3.5" Spear Point
Polypropylene Handle/Housing
3.5" Closed
6" Overall
Instructions Included
The Cardsharp Credit Card Folding Safety Knife makes a great gift for the knife lover in your family. You can get it for about $12. If you're interested in this knife, click any link in the article or simply click the button below.


All images courtesy of Smoky Mountain Knife Works – smkw.com.