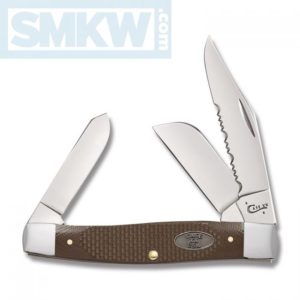 You don't often see a Case knife with serrations. You also don't often see durable and slip-resistant G-10 on a Case knife. The Case Earth Brown G-10 series has both serrations and G-10 handles.
Each knife in this series has Tru-Sharp surgical steel with a partial serration on the main blade, secondary blades are plain edged. Mounted on brass liners, the jigged G-10 handles are secured with nickel silver pins. The knives in this series feature the Pewter Case XX USA shield and have nickel silver bolsters.
The Tribal Lock has a back lock. This series is available in the following patterns: Tear Drop, Tribal Lock, Trapper, and Large Stockman.
Click any thumbnail in the following gallery to launch a slideshow of full-sized images.
Case Earth Brown G-10 Details
Tru-Sharp Surgical Steel with Mirror Polish
Partial Serrations (Main Blade), Plain Edge Secondary Blade(s)
Nail Nick Opener
Jigged G-10 Handles
Brass Liners
Nickel Silver Pins and Bolsters
Pewter Case XX USA Shield
Made in the USA
The Case Earth Brown G-10 series would be an excellent addition to any knife collection. If you're interested in these knives, click any link in the article or simply click the button below.


All images courtesy of Smoky Mountain Knife Works – smkw.com.