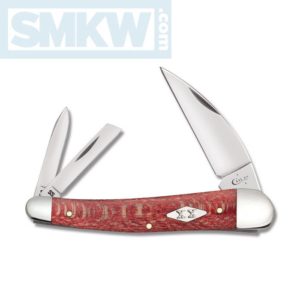 We've heard through the grapevine that the Case Seahorse Whittler is a fan favorite. Rejoice, Wharncliffe fans for the Case Red Sycamore Wood series includes the Seahorse Whittler pattern.
In case you've wondered about the possible origins of this pattern, here's how the legend goes. Around the early to mid-1800s, Lord Wharncliffe was bemoaning the lack of new designs in the realm of pocketknives. He had an idea. He took his designs to Joseph Rogers & Son – Cutlers to Their Majesties. They produced the pattern in a single blade version. By the late 1800s, Joseph Rogers & Son was using the Wharncliffe blade profile on dozens of patterns in various configurations including what we now know as the Case Seahorse Whittler.
Each knife in the Case Red Sycamore Wood series features mirror polished Tru-Sharp surgical steel and nickel silver bolsters. Mounted on brass liners, the sycamore wood handles are secured with brass pins and accented with nickel silver bolsters. Each knife in this series also has a nickel silver Case XX shield. The subtle shading in the natural wood handles is gorgeous and varies from light tan to pink, red, and brown.
This series will be available in the following patterns: Seahorse Whittler, Trapper, Large Stockman, CopperLock, Slimline Trapper, and Small Texas Toothpick
Click any image in the following gallery to launch a slideshow of larger images.
Case Red Sycamore Wood Series Details
Tru-Sharp Surgical Steel
Red Sycamore Wood Handles
Lockback on the CopperLock Pattern
Brass Pins and Liners
Nickel Silver Bolsters
Case XX Nickel Silver Shield
Made in the USA
The Case Red Sycamore Wood series would be a great addition to any knife collection. If you're interested in these knives, click any link in the article or simply click the button below.


All images courtesy of Smoky Mountain Knife Works – smkw.com.