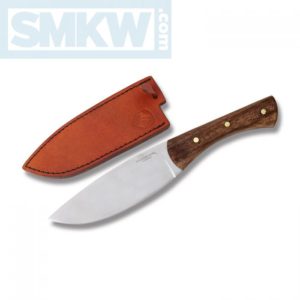 Condor tells us the Condor Knulujulu was designed by Joe Flowers in collaboration with Jorge Umana to make a knife that functions as "a kitchen knife, a camp knife, and [a] tool that can butcher large animals." There's a lot different about this knife and all those differences make it amazing.
First off, the 6.67" drop point is 440HC stainless steel with a polished finish. It's still full tang, but the blade stock is just a bit thinner. This allows a bit more flexibility and maneuverability while working either in the kitchen, at the camp site, or out in the field.  You can see the from the blade shape and the long slicing edge where the Knulujulu was inspired by the Alaskan Ulu.
The handles are triple riveted and made from walnut, just like all your favorite Condor knives. However, the real difference here is the contour of the handle. Much like high end kitchen cutlery, the Knulujulu has a pinch grip. It also features some subtle shaping in the handles themselves to allow comfort when using a variety of grips.
Finally, this knife comes with a hand crafted, welted leather sheath. If you've never seen or handled one of Condor's famed leather sheaths, you're missing out.
Condor Knulujulu Details
440 HC Stainless Steel
6.67" Satin Polished
0.14" Blade Thickness
Full Tang
Walnut Handles
11.5" Overall
Hand Crafted Welted Leather Sheath
Whether it's for your camping gear or your kitchen, you can't go wrong with the Condor Knulujulu. It's just a great knife. If you're interested in this knife, click any link in the article or simply click the button below.


All images courtesy of Smoky Mountain Knife Works – smkw.com.