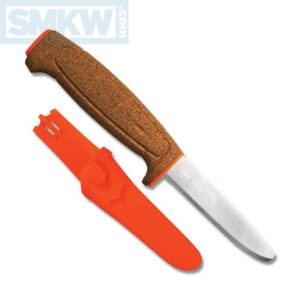 If you've ever accidentally dropped over the side of a boat, you know that feeling you get when you watch it disappear. You know it's just gone – for good. The Morakniv Floating Boat Knife makes sure you'll never feel that way over your boat knife again. Yes, it floats and gives you the time you need to retrieve it from the water.
The Morakniv Floating Boat Knife is 9.25″ with a 3.7″, serrated, rounded-tip stainless steel blade. It's a pretty standard shape Mora with one big difference. The handle is cork, and cork floats. That's right. If you drop this knife into the water, it floats handle up, so you have a chance to grab it. And, because the pommel and guard are high visibility orange, you'll easily be able to spot it in the water.
Yes, we know we've said it a million times, but it's worth saying again. Morakniv is one of the most trusted brands among campers, bushcrafters and survivalists. This new floating knife comes from a family of spectacular knives with a long history of high quality, affordable knives.
Morakniv Floating Boat Knife Details
Stainless steel blade
Cork handle
3.7″ serrated rounded tip clip point blade
Blade thickness: 0.07″
9.25″ overall
Made in Sweden
Polymer Belt Sheath Included
This knife comes with Mora's standard polymer belt sheath – also in high visibility orange. If you're on the water a lot and need a great knife, this might be the knife for you. At just $25, you can't beat it. You can get the Morakniv Floating Boat Knife by clicking any link in this article or the button below.


Images courtesy of Smoky Mountain Knife Works -smkw.com.