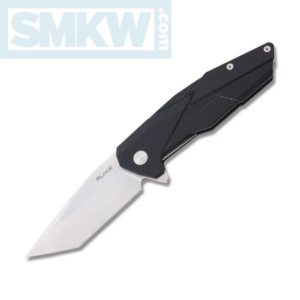 Have you seen the Ruike P138 ThumbUp Safety Lock?  Initially, it's everything you expect from a Ruike – a fast, reliable flipper available at an affordable price. However, with the ThumbUp Safety Lock, Ruike has added another feature to bring you peace of mind – a convenient secondary lock that adds additional safety when your knife is open.
The 3.5" 14C28N tanto tip blade first locks in place with a liner lock. Then you can also slide the jimped switch up which further locks the blade in place. All this reduces the risk of your blade closing on your fingers while you're working with your knife.
The Ruike P138 ThumbUp Safety Lock has a sturdy build. The thicker stock reinforces and strengthens the tip, while still having a nice edge that will slice beautifully. It opens with a flipper and has a thrust bearing pivot system for a fast opening.
The contoured G-10 handles are remarkably slip resistant, even in harsh conditions. Finally, the Ruike P138 has a tip-up pocket clip.
Ruike P138 ThumbUp Safety Lock Details
14C28N, Satin Finish
3.5" Tanto Tip
G-10 Handles
Linerlock
Secondary ThumbUp Safety Lock
Flipper
Thrust Bearing Pivot
Tip-Up Pocket Clip
5.16" Closed
8.66" Overall
The Ruike P138 ThumbUp Safety Lock is a great knife you can pick up for about $50. If you're interested in this knife, click any link in the article or simply click the button below.


All images courtesy of Smoky Mountain Knife Works – smkw.com.