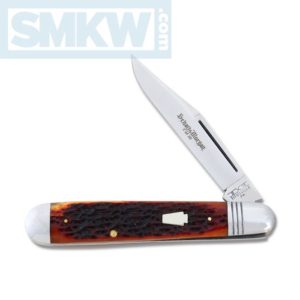 Queen Cutlery, maker of Schatt & Morgan knives since the 1920s, closed their doors for "restructuring" in January. In May, they filed for bankruptcy. We have a lot of questions about the future of Queen Cutlery, and whether there will even be a future for the Queen Cutlery brand. Further, if you read between the brief historical tidbits from inception to the present, there's an awful lot of intrigue. We'll get into all that stuff in just a bit. First, let's talk about the knives.
The Schatt & Morgan #29 English Jack is an exclusive, limited-to-30 production line of knives.  These traditional folders are in mint condition with a very good fit and finish. They have a 3.5" 1095 clip point blade with a mirror polish and a blade etch. Each knife features half stops, a straight nail pull, and rounded lined nickel silver bolsters.
The Schatt & Morgan #29 English Jack knives are available in three different handle materials: Whiskey Catalina Jigged Bone, Oak, and Black Micarta.  They feel great in the hand. The edges are smooth. The handles are meticulously fitted to the frame. These are the perfect knives for anyone who wants to own a quality American made knife at a reasonable price as well as for Schatt & Morgan collectors.
Schatt & Morgan #29 English Jack Details
1095 Carbon Steel, Mirror Polish
3.5" Clip Point
Slipjoint Folder
Straight Nail Pull
Whiskey Catalina Jigged Bone, Oak, or Black Micarta Handles
Brass Pins and Liners
Lined Nickel Silver Bolsters
Nickel Silver Shield
4.625" Closed
8.125" Overall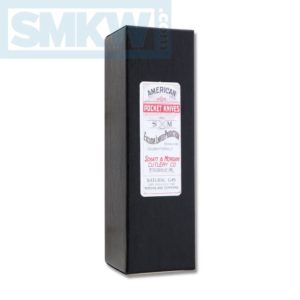 Now for the juicy stuff. Let's talk about the intriguing history of the company, and then we'll speculate about the potential future of the brand.
In 1902, the Board of Trade for the city of Titusville brought Schatt & Morgan Cutlery from Gowanda, NY to their town to create jobs. According to Mrs. Dewey P. (Lavona) Ferguson in "Romance of Collecting Cattaraugus, Robeson, Russell, and Queen Knives (1978)", Titusville "built for them a new building" which would eventually become a legendary knife manufacturing facility. An article in the Titusville Herald from December 1902 amusingly states, "The people of Gowanda are in a measure inconsolable for the loss of their principal industry…."
John Schatt was the President of the company, Charles Morgan was the Vice President.  Eight years into the business, for reasons unknown, Morgan bought out Schatt, and Morgan became the President of the company.
1918-1922
For the next eight years, Schatt & Morgan did well. Enter Queen City Cutlery. Mrs. Ferguson tells us Queen City Cutlery Company was founded in 1918. It operated the first four years without an official name in a garage behind the Titusville High School. Its initial business was making "contract knives." In 1922 they adopted the name Queen City Cutlery.
Know what else happened in 1922? According to David A. Krauss's "American Pocketknives", five guys were fired from Schatt & Morgan for stealing knives without handles from the factory floor and selling them. Guess who those five guys were? If you guessed the founders of Queen City Cutlery Company, you'd be right, unless you were talking to Mrs. Dewey P. (Lavona) Ferguson. She states they were all, "top notch employees of Schatt & Morgan Cutlery Company."
1933
For about 10 years, Schatt & Morgan continued making knives and some straight razors. Ferguson tells us in the delicate manner we've come to love, "Unfortunately, Schatt & Morgan went broke in 1930." Queen Cutlery – the five guys who were fired – bought Schatt & Morgan during the bankruptcy proceedings.  According to the Titusville Herald, "Immediately, former president Charles Morgan was brought on board to be a salesman for Queen."
You read that correctly. Queen Cutlery bought the company they were fired from (Schatt & Morgan) and then hired the former President as a sales rep. Did they hand him salt to rub in his surely wounded pride or were there other shenanigans of which we are unaware?
1969
For just over 30 years, Queen Cutlery prospers. Eventually all the original founders passed away. The family decided to sell the company to Servotronics, Inc., parent company of Ontario Knife Company.  According to the somewhat snippy Mrs. Ferguson, "Progress continue[d] under Servotronics. Incidentally, 1977 was Queens best year."
2006
Queen Cutlery made knives under the Servotronics umbrella from 1970 – 2006 without incident. In 2006, Master Cutler and chief knife designer Bill Howard resigned from Queen Cutlery. He partnered with Daniels Family Cutlery Corporation (makers of Tuna Valley Knives) to form Great Eastern Cutlery. Since the founding of that wildly successful company, GEC has manufactured traditional pocketknives of outstanding quality and beauty.
They've revived old knife patterns. Many of those old patterns are Queen's or Schatt & Morgan's. For example, one of the 2018 releases from Great Eastern Cutlery is GEC #15 Tidioute Huckleberry Boys Knife with Bail and Chain. This knife is a revival of a pattern from the Schatt & Morgan Catalog No. 1, 1903.
2012
In 2012, DFC sold its interest in GEC to Bill Howard. Shortly thereafter Servotronics sold Queen Cutlery to the Kenneth Daniels of Daniels Family Cutlery Group.
Queen Cutlery begins releasing smaller batches of knives, in fewer patterns, with a much higher quality.  Under DFC's ownership, Queen also revives old patterns, old lines, and old techniques.
According to a September 2014 article in the Titusville Herald, "Daniels announced a recent major production equipment investment." The equipment was delivered, and installation was in progress at that time. The expectation was that this investment would produce six to eight additional jobs, and that "the new equipment will make quality control much easier, more reliable and a less time-consuming task to properly manage."
In January this year, just over three short years after that announcement, the Daniels Family Cutlery Corporation abruptly announced via Facebook they were closing Queen Cutlery. This was for a period of "restructuring" due to "cash flow problems."
On March 21 of 2018, DFC filed for Chapter 7 bankruptcy. This form of bankruptcy generally means that if the business has assets, those assets must be sold. No reasonable person can deny the fact that the brand names alone associated with Queen Cutlery, including Schatt & Morgan, are an asset.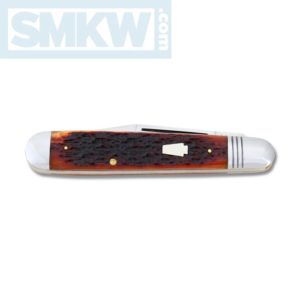 In court documents, DFC declared their total assets at between $50,001 and $100,000. Their total liabilities were declared as between $1,000,001 and $10 million.  The last day to file a non-governmental claim was May 30th. The last day for the government to file a claim was September 17, 2018.
Most likely the Queen Cutlery brands will resurface. The big question is, who will be the buyer?
Wild Speculation
Since January 2018, the internet has wildly speculated about Queen Cutlery and its future.  Was it the expense of retooling? Did they close because of mismanagement? Were they not selling enough knives? Had they outpriced their market? Were employees embezzling funds? Are shenanigans afoot again, like they might have been way back in 1933? We don't know.
In any case, there's been much bemoaning the loss of another great American knife manufacturer. There are hopes that Queen Cutlery, and their many brands, will resurface under different American ownership. There are hopes that they will manufacture high quality pocketknives with outstanding materials, exhibiting impeccable craftmanship, for an affordable price in America.
Questions with no answers… yet.
Is it a possibility that an American knife manufacturer – like Great Eastern Cutlery – will buy this legendary brand and incorporate it into their own lines? In context of the preceding history both ancient and current – absolutely yes.  It's one of the most logical guesses one could make.
Is it a possibility that, much like with United Cutlery a few years ago, an unexpected something could happen that would take the Queen brands in a wholly different direction?  Yes.
Could the court parcel out the various brands owned by Queen to different companies?  It's possible.
We won't know the answers to any of those questions today. However, we can speculate on one often posed Internet question/idea. Is it reasonable to expect high quality pocketknives, made from high end materials, that are made in the US will be available at an "affordable price"?  The answer to that depends on what you consider "affordable." If your idea of affordable is less than $20? Then no, it is not a reasonable expectation.
Conclusion
We won't know the fate of the Schatt & Morgan brand of knives for some time. We don't know if we're re-living some 1930's era intrigues in 2018, or if this is something simple and frankly mundane. What we do know is that right now is the perfect time to buy them. The Schatt & Morgan knives are expertly crafted American made pocketknives available at a reasonable price. They feature outstanding materials. They're available for about $60. If you're interested in these knives, click any link in the article or simply click the button below.


All images courtesy of Smoky Mountain Knife Works – smkw.com.