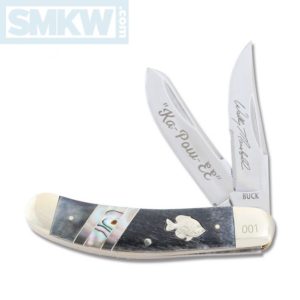 If you're a Buck fan like we are, you know that for the last couple of years Buck, Wally "Mr. Crappie" Marshall and SMKW have teamed up to create some gorgeous collectible pocketknives. 2018 is no different, as the Buck Wally Marshall Sowbelly Trapper is introduced. This fat little serpentine take on a classic trapper pattern is sure to be a hit.
First, this serialized, limited edition collectible from Buck is just 3 3/4″ closed and features a Wally Marshall signature etch on 2 3/4″, partially serrated clip point blade, as well as Wally's "Ka-Pow-EE" etch on the 2 3/4″ spey blade.
Secondly, the black smooth bone handles feature genuine pearl and abalone inlay with a nickel silver Crappie shield. Top all that off with serialized nickel silver bolsters, and you've got one heckuva Buck collectible.
Buck Wally Marshall Sowbelly Trapper Details
420 J2 Stainless Steel Blades
Genunine Black Smooth Bone Handles
Pearl and Abalone Inlay with brass spacers
Nickel Silver Bolster and Crappie Shield
Clip Point and Spay Blade etches.
Limited Edition
Collector's Display Box
In the end, if this year's Wally Marshall knife is anything like last year's, we know it will go fast. You can get your Buck Wally Marshall Sowbelly Trapper Collectible from SMKW. Click any link in this article or the button below.


Images courtesy of Smoky Mountain Knife Works – smkw.com.