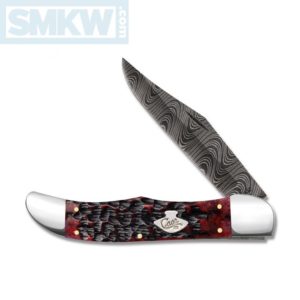 New from Case is the Case Crimson Bone Series. The knives in this beautiful series have carbon ladder Damascus steel blades and peach seed jigged bone handles.
The carbon ladder Damascus blades on these knives is gorgeous. They open smoothly and close with a fantastic snap. The handles are mounted on brass frames and secured with brass pins. The color in the bone handles varies from an almost cherry red to reddish black. The peach seed jigging gives them a nice slip resistance. Finishing these knives is the Case Tomahawk shield and mirror polished nickel silver bolsters.
The fit and finish is just as fantastic as you'd expect from Case Knives.  This series will be available in the following seven patterns: Folding Hunter, Mini Trapper, Slimline Trapper, Trapper, Small Texas Toothpick, Stockman, and Doctor's Knife.
Click any image in the following gallery to launch a slideshow of larger images.
Case Crimson Bone Details
Carbon Ladder Damascus Steel Blades
Peach Seed Jigged Crimson Bone Handles
Brass Pins and Liners
Nickel Silver Bolsters
Case Tomahawk Shield
Made in the USA
If you're looking for beautiful traditional pocket folders that make an outstanding addition to any knife collection, you can't go wrong with the The Case Crimson Bone Series. If you're interested in these knives, click any link in the article or simply click the button below.


All images courtesy of Smoky Mountain Knife Works – smkw.com.