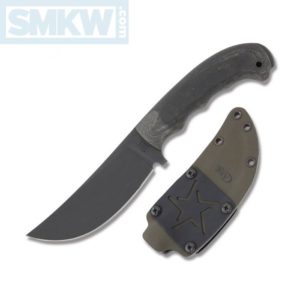 The new Case Winkler Hambone is the third collaboration in the American Heroes Knife Series, and what a collaboration it is. An elite team of Case makers manufactured these beauties. Winkler Knives provided the blades and handles, and Medal of Honor recipient Clint Romesha designed them in tribute to Hambone, the last of the Army's pack mules. Case tells us, "Romesha reflects that these Hambone knives exemplify the men, women, livestock, and equipment serving in the U.S. military through the years."
The Hambone knives feature a 4.9" flat ground 80CrV2 trailing point skinner blade with a black oxide Caswell finish.  80CrV2 is an extremely durable high carbon steel. The black oxide coating helps prevent rust and corrosion. Overall, it's a rugged blade that with minimal care should last for basically ever. It has a long slicing edge and a protruding guard to protect your fingers from accidental slippage.
The Hambone is available with either black canvas laminate or curly maple handles. The narrow finger grooves in the handles are comfortable and fitted for a variety of grips. It's finished with a glass breaker pommel and lanyard hole. Finally, it comes with a Kydex sheath with a clip plate attachment that's decorated with the black and green star of military service.
Case Winkler Hambone Details
80CrV2, Black Oxide Caswell Finished
4.9" Trailing Point Skinner
Flat Ground
Protruding Guard
Full Tang
Black Canvas Laminate or Curly Maple Handles
Glass Breaker Pommel
Lanyard Hole
Kydex Sheath with Clip Plate Attachment
9.5" Overall
Made in the USA
The Case Winkler Hambone collaboration results in a rugged knife that's beautiful and patriotic. If you're interested in these knives, click any link in the article or simply click the button below.


All images courtesy of Smoky Mountain Knife Works – smkw.com.