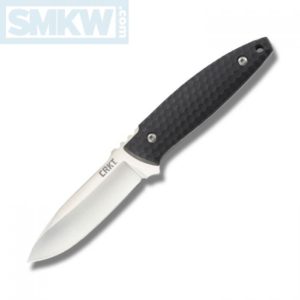 Designed by the fabulous Luca Burnley, the CRKT Aux is all about options. You want a fixed blade? Check out the Aux. A folder with a satin finish plain edge? The Aux has it. A black coated, partially serrated edged folder? There's an AUX for that too. CRKT tells us, "Lucas Burnley designed the original fixed blade Aux to be your 'Auxiliary' knife to your primary carry, and the folder to pick up the slack. The luxury of variety is always close at hand with this tactically-inspired everyday carry."
The CRKT Aux fixed blade has an incredibly slim profile and light weight which makes it almost perfect for daily carry. The overall look and feel of this knife is fantastic. Covering the full tang are dimpled glass-reinforced nylon (GRN) scales. They're the perfect blend of smoothness and slip resistance. The 3.451″ 8Cr13MoV modified spear point has a satin finish and a significant amount of jimping on the spine. Finally, the Aux fixed blade comes with a GRN sheath with a J Hook attachment.
CRKT Aux Fixed Details
8Cr13MoV, Satin Finish
3.451" Modified Spear Point
Full Tang
Glass-Reinforced Nylon Handles
Lanyard Hole
7.563" Overall
GRN Sheath with J Hook Attachment
2.9 Ounces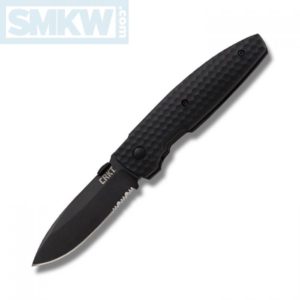 The CRKT Aux folder is not surprisingly very similar to the fixed blade. It has the same profile, the same black, dimpled GRN grips, and the same blade shape. The handles are a touch thicker and it is a bit heavier.
The 3.25″ 8Cr13MoV modified dagger comes with either a satin finished plain edge or a black coated partially serrated edge. It opens with a thumb disc and that opening both smooth and quick. Once open, it stays locked in place with a liner lock.
The GRN handles are mounted on steel liners.  The black coated version has black coated hardware, the satin finished version has satin finished hardware. Just like the Aux Fixed, the handles are comfortable and have just the right amount of slip resistance.
Finally, the Aux Folder has a tip-up pocket clip that matches the hardware. The all black version has a black pocket clip. The satin version has a satin finished pocket clip.
CRKT Aux Folder Details
8Cr13MoV, Plain or Partially Serrated
3.25″ Modified Spear Point
Satin Finished or Black Coated
Glass-Reinforced Nylon Handles
Thumb Disc Open
Linerlock
Tip-Up Pocket Clip
4.42″ Closed
7.69″ Overall
4.2 Ounces

Overall, the CRKT Aux knives are gorgeous with a great look and feel. If you're interested in these knives, click any link in the article or simply click the button below.


All images courtesy of Smoky Mountain Knife Works – smkw.com.